Old business first...it seems that the dirtball from Florida who was promoting the fact that he had the complete pro-shot video from THE ROLLING STONES surprise Phoenix Theater show August 10th on DVD("Phoenix Rising"), was simply attempting to rip off collectors and in some cases, has. Losses have apparently been minimal but these bastards are still out there and people simply have to network through established contacts and sources. There are enough kind-heared souls amongst us that all you have to do is ask around. Fortunately a few very seasoned collectors decided to call this jokers bluff and offered up some trades of sorts, keeping the losses minimal, but I believe that a couple of "newbies" did get taken for cash. Well, what goes around comes around....Anyway, caution is advised on anything too good to be true. To counter that b.s., how about some great, tangible STONES!...Exile has taken the decent audience tapes available for download on the net and will be packaging up the two Bigger Bang Tour kickoff shows from Boston's Fenway Park on August 21st and 23rd as "First Bangs", a 4CD set...recently, the label issued a No Security Tour performance, "Some California Girls", the Sacremento recording from Arco Arena on February 6th, 1999 and if my recall is correct - this is an ALD sourced recording (Assisted Listening Device -issued for those with hearing impairments with the show broadcasted from the soundboard over a mono, FM-like frequency within the Arena.) Dog N' Cat Records continues its' relentless release pace with a couple of more titles on the way..."All Inside Our Crazy Dreams" is first up and it appeared that it might be studio outtakes from 1977-1979 but that hasn't been confirmed..."Executive Action" sounds interesting as it is slated to include 2 different shows recorded in Dallas 1981 in audience quality.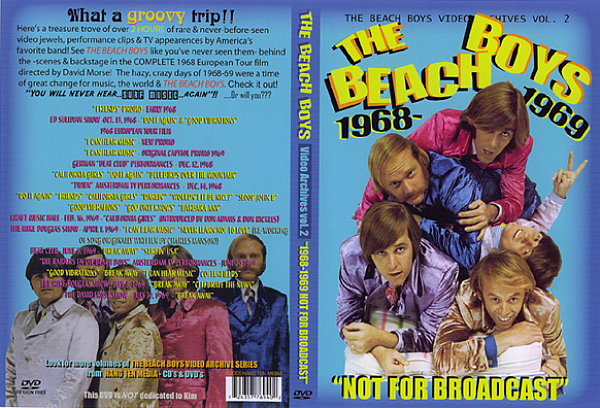 Hang Ten Media is back with their very solid looking BEACH BOYS DVD "Not For Broadcast" The Beach Boys Video Archive Vol. 2 1968-1969...this silver disc compilation gathers the obscure and rare video snipets from that late-60's era as they transitioned from the clean surf-music to their post-Brian Wilson flower power era. All content here is pro-shot film or broadcast quality and presents for the first-time the bands' complete 1968 European Tour Film, featuring a unique look behind-the-scenes and backstage footage. Also included are the Ed Sullivan performances of "Do It Again" & "Good Vibrations" from 1968, that Mike Douglas Show appearance where the band actually perform a re-worked version of a Charles Manson tune "Never Learn To Love"...all the weird and the wonderful packaged together for over 2 hours of viewing. The title is just being released this week.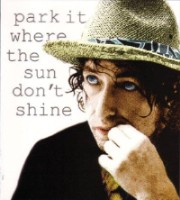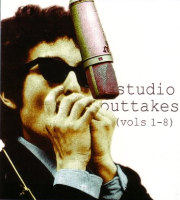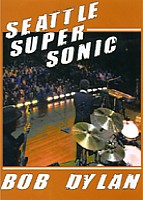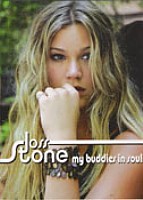 Plenty of BOB DYLAN bootleg releases to mention again this week...the most prominent is Hollow Horns' final set in their Reference Master Series...The 2-disc Volume 8 is called "Park It Where The Sun Don't Shine" and really what this last installment does is compile the "loose-ends" that didn't seem to fit thematically, or otherwise, on the earlier sets. Volume 8 also will have a booklet with detailed information on all 8 titles as they are meant to be considered a single set. Every one of these has offered the aboslute best in quality of unofficially released studio outtakes and should be considered "must haves" for whatever period of DYLAN you are into....up through 1990 anyway! It doesn't stop there...as we mentioned a few days ago, Tambourine Man Vision have issued a DVD of BOB's performance at Amazon.com's 10th Annivesary Gala last month and it's called, what else, "Seattle Supersonic" and I believe this is a pro-shot video if I'm not mistaken. Perhaps someone can validate that but I'm sure that is the case...Other new DYLAN DVD's include "Live At The House Of Blues" from Digital Dreams, another pro-shot source from the Atlanta HOB on August 3rd, 1996 and clocks in just under 2 hours...then we have "Never Ending Concert Tour #1694" DVD from Free Bob Records which documents his show at The Binghampton University Arts Center, Binghampton, New York on November 14th, 2004 and features both Dolby Digital 5.1 or Stereo 2.0 audio. Also out now from Digital Dreams is JOSS STONE "My Buddies In Soul", a DVD compilation of pro-shot/broadcast quality footage including her Swedish New Pop Fest performance from last year, along with Glastonbury 2004, The Brit Awards duet with ROBBIE WILLIAMS and her Grammy Awards performance along with MELISSA ETHERIDGE, and more...New NEIL YOUNG DVD's from the Penguin Label, "Muddy Track" is a 1987 Tour Documentary intended for official release but hasn't seen the light of day until now - this was filmed in various locations..."Yesteryear Of The Horse" appears to be quite phenomenal as it compiles a series of pro-shot video from 1976!...included are performances from The Budokan, Toky on March 11th, Hammersmith Odeon in March of '76 as well, and an impromptu jam at a subway station in Glasgow in April of 1976...also new from Penguin on DVD is ROBERT PLANT "2005 TV Appearances" which includes performances from "Later With Jools Holland", "Late Night With David Letterman", "The Conan O'Brien Show", his Icelandic TV appearance, Stockholm 2005, and more...then there is THE CURE "Rome 2 Paris 2004" which compiles MTV2 Europe footage, Much Music Biography, and the Direct TV Broadcast of their MCM Lyon concert...
finally, ERIC CLAPTON "25th Anniversary Tour with Mark Knopfler & Elton John" DVD, featuring a 90 minute Japanese TV special from 1988 with his Special Guests and boasts Dolby Digital audio.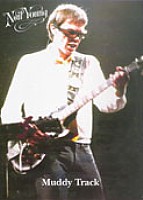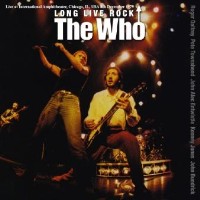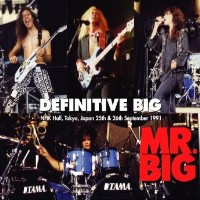 In other bootleg release news...Wardour has just issued THE WHO "Long Live Rock", a soundboard/broadcast feed from the International Amphitheater in Chicago on December 8th, 1979. This was certainly obtained via Bit Torrent over the net and the original seed for this show shared that while it was presented to him as a 2nd generation soundboard, it sounds more like it was sourced from video...and this seems to be highly likely as this show sold out so quickly, the concert was broadcast via closed-circuit to movie theaters around the Chicago area. And for fans of MR. BIG, Ace Of Spades has released "Definitive Big" - a 3CD set documenting the bands' stints at NHK Hall, Tokyo on September 25th (disc 1) and September 26th 1991 (discs 2 & 3), both shows taped from the mixing board....oh yeah, this title is limited to 100 sets "for real fans"...no casual sales allowed apparently. A couple of noteworthy Japanese DVDR titles to cite...THE BLACK CROWES "Hard To Handle" pieces together an early concert in pro-shot quality from Toad's Place in New Haven, Connecticuit on April 30th, 1990 on Disc 1...and a compilation of TV appearances 1992-1993 on Disc 2 from "The Tonight Show with Jay Leno", MTV Music Awards 1992 and much more...there is also MOTLEY CRUE & SLAYER "Rock Am Ring 2005", another double-DVDR set, shot live at Eifel, Germany on June 4th, 2005...other mentions, from Sirene comes STEVE HACKETT "Visible Touch '88", 2CDR from Paris, September 19, 1988...and GENESIS "Take A Running Jump '74", a live audience tape from Theatre Royal, Drury Lane, London on January 20th, 1974 during the last run with PETER GABRIEL...from Power Gate is CHEAP TRICK "Japan Jam 2", a 2CDR soundboard, live at Mt. Rokko, Kobe, Japan on August 19th, 1980...Cat's Meow has just released the JACKSON BROWNE double-DVDR title, "Alive In The World", a comprehensive collection of TV appearances from 1975 through 2000, you get his Old Grey Whistle Test '75 appearance, Farm Aid 1990, VH-1 Storytelers 1996 and a slew of other footage.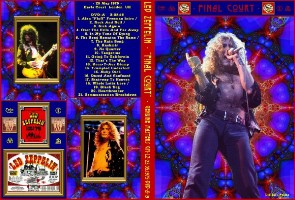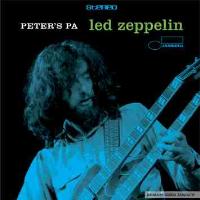 Finally this week, LED ZEPPELIN bootleg news...Genuine Masters will incorporate the last Earl's Court show into their library by releasing the May 25th, 1975 soundboard on September 30th...the Hybrid DVD Audio will again feature over 3-and-a-half hours of PCM Audio on a single DVDR with over 300 high resolution images in the accompanying slideshow, their patented multi-media menu too!..."Final Court" will be out in about 2 weeks and will also be available on audio disc (CDR)without artwork. Then, there is the news of a brand new recording, legendary stuff. One week ago, LED ZEPPELIN's August 7th, 1971 Montreux Casino concert was made available through Bit Torrent download to members only at the Zep Presence Server website. For those that have sought to complete their ZEPPELIN library and have networked and researched, know that the band played Montreux in 1970, '71 and '72 with the earliest appearance being the only available audio document (and a wonderful one at that!). So now, we have this new 1971 recording that has a little story to it. In a rare moment of generosity to fans - and promoter Claude Nobs - Zeppelin manager Peter Grant agreed to have the concert piped outside the venue via a specially rigged PA to accommodate the growing number of fans gathering out on the lawns. As sources have shared, it is thought that this recording was actually made outside the venue and what is picked up is the PA source! Aptly titled "Peter's PA", it's said that the tape fluctuates in sound but is quite an amazing document of the band in full primal mode, getting set for their American Tour later in the month. I'm getting set to sample this one myself and kudos goes out to all those that made this available, shared the information and made it accessible free of charge. This is another example of some cool things that have come about over the past couple of years. Some very nice artwork has been produced to to house this 4CD set. This show has been shared in 2 versions, a complete raw tape without any work put to it - and a slightly re-worked version to smooth out some of those fluctuations in the recording. This concert was the first time the band performed the LED ZEPPELIN III classic "Celebration Day", and it also is said to be one of the best versions of the opening "Immigrant Song" as well. Awesome.

That's all for now! Thank you for your support and keep it tuned to the ticker throughout the week - then back here for a summary of weekly news at HotWacks On-line. Have a good one.

Svengi
September 12th, 2005