What is happening to the Silver Disc CD bootleg? Over the past 3 weeks or so, I've been watching the bands on tour and usual haunts where one might obtain the latest downloads. They are arriving regularly, along with an abundance of vintage tapes and broadcasts. You would think the established Silver Disc Labels would continue shooting the fish in the barrel, but that isn't exactly the case. Welcome to the HotWacks On-line Bootleg News for October 24th, 2005.

Perhaps it's just my own perception of the market but it seems to have hit a point where the desktop "label" and/or Bit Torrent sites have eclipsed the Silver Disc production. While that may be true, it could also simply be that the labels who produce Silver Discs for the collectors are simply pacing the releases. I'm speculating of course but it just could be that they have decided not to "compete" but agree to acknowledge and either cherry pick what's being provided or working their sources for the lost gems and seeking out those who hoard their tapes. We'll have to keep up the watch and see how the late Fall and Winter behave on the release front. All I can say is that this Fall season isn't experiencing the windfall of high profile titles nor the plethora of releases we've enjoyed and raved about in the past.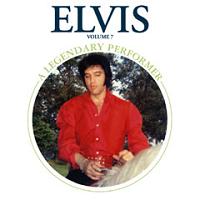 Here's what we can share and relay this week...it's been awhile since we've caught up on ELVIS titles and collectors have had another handful of interesting titles to seek out. Coming soon from the Mystery Train Label is a single disc of interviews, recorded from March to July 1972, called "All That I Am" and 17 of the 21 tracks or excerpts are previously unreleased with the majority of them recorded at MGM Studios in L.A....the disc runs just over an hour and the topics are many and varied - the release also comes with an extensive 24-page booklet. Another title to be issued soon comes from an unidentified label and is called, "From Union Avenue To Thomas Street, 1954-1969", a limited issue of 500 copies which features outtakes from ELVIS' first studio sessions including a half-dozen previously unreleased outtakes, an ELVIS answering message and a couple of bonus tracks - a 1955 radio commercial and 1955 radio interview...Madison has released "Elvis-A Legendary Performer Volume 7", which contains some previously unreleased performances -both studio and live-such as an outtake of "The Girl I Never Loved" (takes 8 & 10), his Jaycee Award Speech (a moment and award he cherished into his last days), and some 1977 live soundboards snippet, all accompanied by a 16-page illustrated booklet...the Diamonds Anniversary Edition Label(DAE) has "Elvis Diamonds" nearly ready to go...this is a compilation of tracks from their first 6 releases of live shows: Tuscaloosa 8/30/76, Cincinnati 3/21/76, Las Vegas 8/24/69, Memphis 6/10/75, Las Vegas 1/27/71 and Vegas Rehearsal 8/16/74 + Opening show 8/19/74...these titles were originally issued 10 years ago and elude many collectors - being that there is quite a range of sound quality, this compilation may serve as a perfect sampler and will no doubt be highly desirable and collectible for newbies and connoisseurs alike.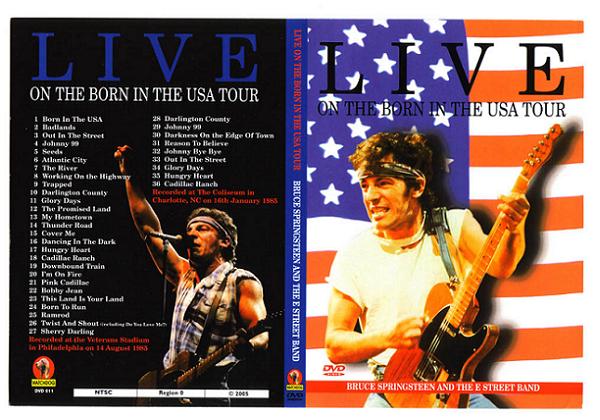 New BRUCE SPRINGSTEEN titles abound...first up is the new Watchdog DVD "Live On The Born In The U.S.A. Tour", which pairs the complete August 8th, 1985 Pro-shot vid from Vets Stadium in Philadelphia with the single camera Pro-shot footage from Charlotte earlier that same year on January 16th...The release comes with mixed assessments - but in fact, an upgrade to the Phillie versions that have been in circulation - the reason is that the quality remains a disappointment and here is perhaps the reason: our taper who had direct access to the video feed for the concert apparently couldn't stand-by during the recording and set the tape to record on Super Long Play to be sure and catch the entire 3-hour show, thus explaining the sub-standard results...combine that with some generational loss along the way and you would surely see exponentially deteriorated video depending on your source. Well, it seems Watchdog obtained a first-generation copy of this video and attempted to carefully enhance what they had to provide what is certainly the best version of the Vets Stadium video thus far. The Charlotte show is certainly a better looking video but lacks the robust audio and dynamic shots, being a single cam source. In other BOSS DVD news, Doppleganger has released a beautiful upgrade to the black-and-white pro-shot/soundboard Capitol Theater (2nd Night) in Passaic, New Jersey on September 20th, 1978...this is the one to grab folks, I can only describe it as "striking" - very nice!...and appropriately titled "Black and White Night". In more contemporary BRUCE offerings Crystal Cat has 3 new "Devils and Dust Tour 2005 " audio documents..."Paris Dust Night" features a stellar show from June 20th, "Gothenburg Dust Night" Sweden June 23rd and the third double-disc set in the trilogy is "Stockholm Dust Night"...Doberman has released a very interesting DnD release, the first "IEM Soundboard" from the tour - Buffalo, New York on July 18th on 2CDRs and it's called "Join The Crew!". The Godfather Records has a new DnD release as well, the 2CD set "Straight Into Our Hearts" features the excellent Bradley Center show from Milwaukee on August 7th in wonderful audience quality with bonus tracks from Portland on August 10th, Seattle August 11th and Vancouver on 8/13.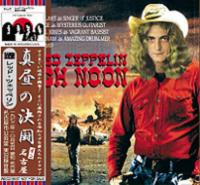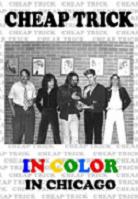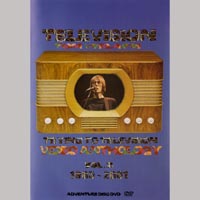 In Japanese Bootleg News, here are some of the highlights...the Wendy Label has announced "High Noon" as it's next LED ZEPPELIN release, a 2CD set featuring the Nagoya, Japan recording on October 5th, 1972 and sporting the silliest cover art issued in 2005 - but the Japanese have a history of issuing spoof art, perhaps it's just the cheesy western slant that makes this one stand out, but it's an excellent show though and a very good audience tape...from Mainstream comes THE POLICE stereo soundboard tape from the US Festival at Glen Helen Regional Park in San Bernadino on September 3rd, 1982 (the first year of 2 installments of this particular concert festival)...the set is called "One World, All Of US"...Digital Queen Archives has announced the DVD title, "Houston Rock 1977-Complete Concert Edition"...I failed to mention another QUEEN DVD title last week in this the column - Queen Films, Ltd's "We Are The Champions: Final Love In Japan", Live at the Yoyogi National Stadium in Japan on May 11, 1985 with audio in 5.1 Surround and a superb picture...and the QUEEN releases don't end there! Wardour will be releasing "Stadium Rock", live QUEEN from Nishinomiya Stadium, Kobe, Japan October 24th, 1982, in both 4CD and 2CD sets...Discs 1 & 2 (the 2CD set) will feature what I understand to be a tape source and then discs 3 & 4 of the deluxe set will be the same show sourced from the analog vinyl release on Lora Records called, "Get Down", and it's an excellent stereo audience used for this old issue!...Another Japanese exclusive finds lucky collectors getting the Bonus DVD "Queen: Live In Rio -Complete" with early orders from a designated vendor...this features the 110 minute pro-shot video from Brazil on January 12th, 1985...I was able to sample an outstanding DVD from the Turning Japanese Label that features CHEAP TRICK live at the Chicago Festival at Navy Pier back in 1981..it's called, "In Color In Chicago" and it's absolutely outstanding with a picture that seems to be near digital quality and certainly seems to be a Japanese production as the show features the ever-present sub-titles for each song. Adventure Disc has a new TELEVISON DVD, "Video Anthology Vol. 2", featuring TOM VERLAINE and CO...it compiles the core footage from the Live In Spain broadcast circa 1985 along with The Tube Channel appearance on UKTV 1987 ("Fox Hole"), Fuji Rock Festival set from Japan in 2001 along with Promo Clips of "A Town Called Walker" from '87 and "Call Mr. Lee" from 1991.

Oh yes!...There's that new European Boot called "Monsters Of Rock In Germany Vol. 1", a 5CDR set that includes sets from MOTLEY CRUE, ACCEPT, GARY MOORE, DIO and OZZY OSBOURNE. Watch for details on some other Bootleg DVD's we teased about last week from THE ROLLING STONES at MSG last month, FRANZ FERDINAND, BOB DYLAN BBC '65 CD and more. A special thanks to both, the Elvis In Norway web site and the ElvisCollectors.com site as well. That will have to wrap this edition up, please keep an eye on the News Ticker throughout the week and have yourself a good one! Thank you for swinging by HotWacks On-line for the latest.

Svengi
October 24, 2005