Welcome to the weekly Bootleg Music Release News here at HotWacks On-line. November is showing some signs of heating up and we have some titles to update you on and share the latest and greatest too.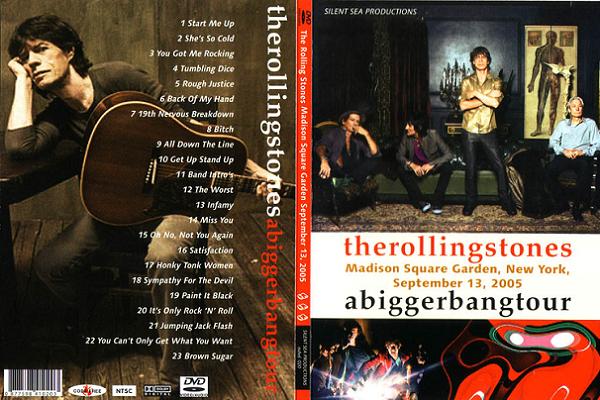 Silent Sea Productions have their burners on high of late with a continuous flow of titles. Their latest DVD effort provides ROLLING STONES collectors with what appears to be the very first silver disc DVD title from the Bigger Bang Tour..."Madison Square Garden, New York, September 13, 2005" is an excellent audience sourced video that has been in circulation but Silent Sea now has given it top treatment and has wrapped it in a beautiful Digipack cover that will give collectors another reason to boast to friends!...the label has their version of the STONES Columbus concert recording from September 24th on 2CD's in the can and just about ready to issue as well...In other STONES boot news, Dog N' Cat Records are perhaps keeping a more frenetic release pace as they announced "Buffalo's Rock N' Roll Animals" this week, a 2CD of the Buffalo, New York show on September 27th, 1981 in soundboard quality. Rumors have it that there are pro-shot videos that exist of all of the DAC soundboards that have been coming out, makes sense since they were filming for what became the big screen film, "Let's Spend The Night Together". It would be cool to see some of these vids surface down the line but I'm not sure we need them all! (did I just say that out loud?)...ah hell, bring 'em all on and let's see what we've got to work with.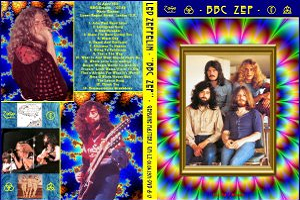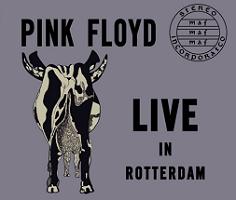 A staple BBC recording in all LED ZEPPELIN collections is the April 1st, 1971 Paris Theater, London show. Collectors snapped up many different versions on bootleg vinyl and CD through the years and of course the band issued it officially as well - although in a severely edited result. Well, Genuine Masters has a complete source said to be right from a master tape and will issue their next Hybrid DVD-Audio on November 30th as "BBC Zep"...there was an incredible "Pre-FM" tape source shared via the internet last Spring and it's absolutely stunning. Well, this GM source is said to be right up in that descriptive echelon also and contains all John Peel intro and commentary and the between song banter. Some new titles announced from our Japanese friends include the PINK FLOYD 4CD set from Sirene, "Live In Rotterdam", a title that will feature 2 different sources of the same concert at the Sportpaleis in Ahoy, Rotterdam, The Netherlands on April 3rd, 1971...the first 2 discs will be what we'll call an "alternate" audience tape because discs 3 & 4 will be sourced from the old analogue bootleg LP set "Live In Rotterdam". Sirene is issuing a slew of other FLOYD shows on CDR that include the Wembley 1974 pre-FM master, "Wembley 1988"(London, August 6th), "California Bell"(San Diego,April 14, 1994), "Coming Back To Live" (Denver, June 18th, 1994)...In other PINK FLOYD boot news, from the Destroyer Label comes "A Flying Pig", a 2CD of their Tampa Stadium show during The Animals Tour on April 24th, 1977 and has been out in other forms previously. Also from Destroyer are a trio of new ERIC CLAPTON titles and all appear to be derived from audience tapes..."To Be Your Woman" 2CD is from Kyoto, Japan on October 24th, 1975..."Festival Hall 1977" 2CD is recorded at the famed Hall in Osaka on October 1st, 1977 and "Blues In The Night" 2CD comes from Koseinenken Hall in Osaka on November 6th, 1974. I should mention that Power Gate has a new BLACK SABBATH title to watch for and is said to be an incredible audience recording from Club Citta in Kawasaki, Japan on October 14th, 1989 and is called, "Sabbat"...this is the line-up of Tony Martin, Geoff Nichols, Neil Murray, Cozy Powell and Tony Iommi.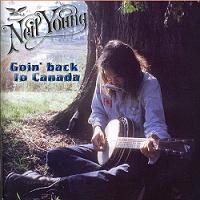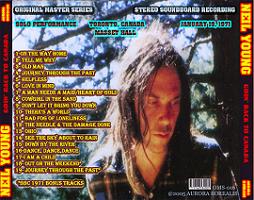 We have talked about the new NEIL YOUNG soundboard recording from Toronto's Massey Hall on January 19th, 1971 previously and it was supposedly released in a raw and chopped up, out of sequence version on a Japanese Label but Aurora Borealis has their "definitive" version about ready to street ("Going Back To Canada") and we thought we would share the artwork that we've been sent and it's hot off the press...it looks really great and I can't wait to sample what appears to be a classic NEIL YOUNG solo performance. THE BEATLES continue to be released to death and this week, it's news of a couple of "new" CD's...from Yellow Dog comes "Message To Australia" that compiles all Aussie related recordings that would make a cohesive theme...it includes the recorded message to their Australian Fans prior to arriving downunder, the June 16th, 1964 Festival Hall show in Melbourne, the Adelaide show at Centennial Hall on June 12 1964 and the fragmented recording from Sydney on one of the nights June 18th-20th, 1964. Secret Garden has "River Rhine Tapes" out now on 3CD's and it features the incredibly never-ending Get Back Sessions in stereo soundboard and edited to be digestible. ELVIS PRESLEY is back in the bootleg news this week...newcomer label, Straight Arrow, will issue it's debut title "Pieces Of My Life" towards the end of the month...the release introduces collectors to a brand new audience source tape of ELVIS' tour closing performance in Asheville, North Carolina on July 24th, 1975...word has it the tape is distortion free and possesses consistent tape speed throughout, which is always nice when it comes to these very old audience tapes. A couple of other ELVIS updates...Fort Baxter will release the re-issue "Last Tango In Tahoe" (first appearing in the "A Profile, The King Onstage Vol. 2" box set) but this re-issue gets it's own custom treatment and a 12-page color booklet covering the May 27th, 1974 event plus some bonus tracks from May 25th...Another powerful EL performance is captured on "That's All Right Any Way You Do" an import of unknown origin at this time...it features the International Hotel show in Las Vegas on August 25, 1971 in very good audience quality.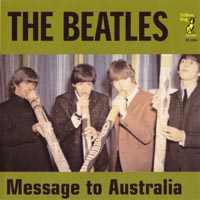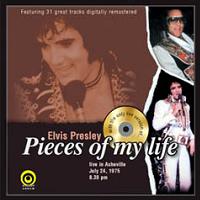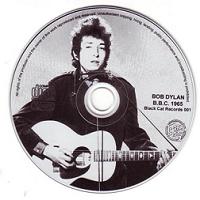 A popular BOB DYLAN recording is getting shined up and released again on Black Cat Records...the single disc "BBC 1965" will street later in the month, the Black Dog Label issued this show last month and this new one will give DYLAN afficianados a chance to compare head-to-head. One other bootleg DVD release to note...Racket Queen has released the OASIS title "Rock N' Roll Manchester"...a DVD that features their Manchester City Stadium Concert in the UK on July 2nd, 2005 in pro-shot quality with other bonus footage from Los Angeles at Hyundai Pavilion on September 17th, 2005 and the Everett Event Center in Everett, Washington..plus a bonus CDR of a soundboard recording from Summer Sonic 2005.

That will do it for this week! Keep checking the HotWacks On-line News Ticker throughout the coming week and we'll provide another weekly summary here next Monday night. Thanks for the support and I'll meet you back here next week.

Svengi
November 14, 2005