First of all, I am compelled to share a Wolfgang's Vault story. After visiting the site for the hundredth time, dreaming and drooling...I find something I can acquire and admire without putting a second mortgage on the house. I pull the trigger and order a FACES '73 Tour Poster. Here's the reason for sharing this story - I get a call about 4 hours later from one of the warehouse guys out there at the Vault who tells me that upon filling my order from earlier in the day, they discover the condition of the poster wasn't "mint" and had some water damage that doesn't affect the actual image. That action underscores the integrity behind bringing this collection to market. Just in case someone out there is pondering a purchase, likely a major one...these people are really great. Besides that, they have a 10 day return policy if there is any issue with the item purchased. So, there ya go. A good experience for a change.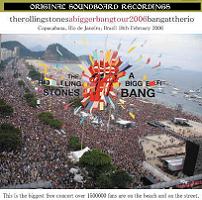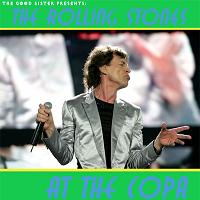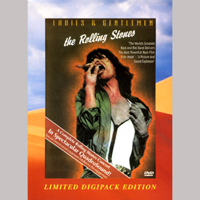 On February 18th, THE ROLLING STONES put on a free concert at Copacabana Beach in Rio de Janiero, Brazil. The show was broadcast around the globe via digital satellite feeds on TV and various channels of Radio Broadcast, including over the net on AOL. Even though this performance was put right in the can for official release, there is at least a half-dozen bootleg productions being readied for collectors.  The first couple of CD releases to cite here are Devil Productions' "Bang At The Rio 2006" 2CD set and Sister Morphines' "At The Copa" 2CD. There will likley be some DVD releases of this performance to hit the street soon as well. The crowd at this one was estimated at 1.5 million people. After listening to the show for the first time over this past weekend, the band could have dealt a better setlist for the occaision with all the plans to issue it officially. I mean, the setlist matches their other DVD efforts by at least 80% aside from a couple of "new" numbers. And the performance wasn't very good either, especially the vocals from the whole team onstage. Another thing about this tour... pretty much anything after the 9th or 10th song is a complete walk-through. I have never heard more tired versions of "Honky Tonk Women", "Sympathy For The Devil" and the lot. Enough of that rant!  In other STONES boot news...seems Empress Valley Supreme Disc is going to give Dog N' Cat Records a little run for the money by issuing a couple more '81 soundboards..."Fucking Wonderful" 2CD will feature the October 31st show from Dallas and "Live At Rupp Arena" 2CD, the Lexington, Kentucky board tape from December  11th, 1981 show...from a label calling itself Hook Productions there is a special Digipack presentation of the classic "Ladies And Gentlemen...The Rolling Stones" coming out this week on DVD.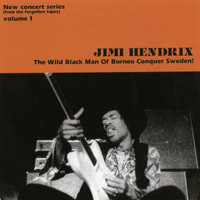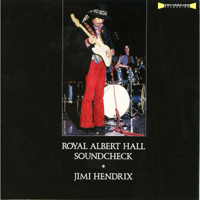 Watch Tower continues to build their JIMI HENDRIX catalog by offering collectors two more very nice quality discs..."The Wild Black Man Of Borneo Conquer Sweden" offers up 7 tracks from the May 24, 1967 Stora Scenen Grona show in Lund (Stockholm), Sweden from a Mono Master Tape, along with some bonus tracks taken from a low gen of the Popside appearance on Swedish TV the same day plus some rare interviews..."Royal Albert Hall Soundcheck" 1CD is primarily taken from the master soundboard of their February 24th, 1969 afternoon soundcheck at Royal Albert Hall with bonus interviews that include a March 2nd interview session at Jimi's Apartment. New from Reel Masters this week is a 1972 recording of the JEFF BECK GROUP MK II captured live at The Roundhouse in London on July 23rd, 1972 and features the line-up of Bob Tench on Vocals, Cozy Powell on Drums, Clive Chaman on Bass and Max Middleton on Keyboards.  Be aware that a bonus CDR is being given to those who purchase an initial copy of "Roundhouse" which features several tracks from each of the opening bands at this show, which included: COCKNEY REBEL, THIRSTY TWO and HOME.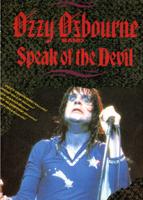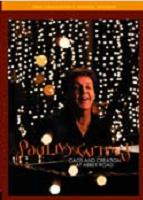 Genuine Masters is back in the column this week with their next DVD-Audio release, LED ZEPPELIN "Dragon Slayers"...this one will offer up a polished up version of the Seattle soundboard tape from July 17, 1977. This is completely different from the Kingdome video and soundtrack that GM issued last Summer. This should be a more lively upgrade to Empress Valley's "Year Of The Dragon", also soundboard sourced. The street date for "Dragon Slayers" is slated for March 10th. New on DVD this week is OZZY OSBOURNE "Speak Of The Devil" a proshot vid of the bands' L.A. appearance at Irvine Meadows on December 6th, 1982 with some bonus footage of "Wicked Videos" tacked on. There is also a new PAUL McCARTNEY DVD out called "Chaos And Creation At Abbey Road", a compilation of Sir Paul's promotional appearances which include a BBC-TV special that brought him back to Abbey Road Studios to reminisce in a very intimate setting in front of a lucky studio audience plus other appearances...the disc has been issued by The Masters Of Beatles Essentials (MBE) and runs nearly 2 hours. We also shared with you over the weekend that Mainstream's new POLICE title will be "Sting's Birthday Party", recorded live from the soundboard in Barcelona on the Synchronicity Tour, October 1st, 1983. Another ROD STEWART Japanese concert recording is getting an upgrade...due soon from Craze Music Entertainment, is "Jet Black Suspender Belt", a double-CDR production that features the soundboard recording from Yokohama Arena in Kanagawa, Japan on April 24th, 1994...it will need to be confirmed yet if this is actually from the proshot video of the show, or an actual soundboard. In any case, this is a very enjoyable show from Rod and band during the "Night To Remember" outing to support "Unplugged...And Seated".  The disc is said to be getting "Hi-Quality 24-bit 96kHz Sampling Digital Remastering"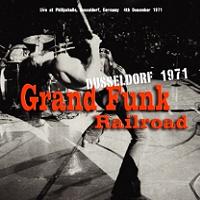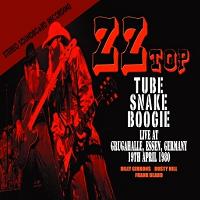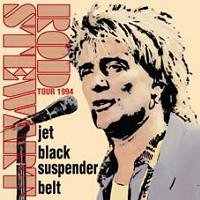 We'll round out this weeks' column with the latest release news out of Japan...Other LED ZEPPELIN release news from Empress Valley, the label just released "Dancing Again", a 3CD set featuring the Seattle audience tape from June 19, 1972...Also, EV is getting their upgraded "Blueberry Hill" 9CD Box Set ready for collectors to make the difficult decision between theirs and Tarantura 2000!...both feature the exact same 5 audience source tapes, including the new 5th source that is a nice stereo audie tape but clips off the intro and is clipped at the end as well, great stuff.  Trial will release GRAND FUNK RAILROAD "Dusseldorf 1971" in the next week or so, it will feature and excellent sounding tape from Philipshalle in Dusseldorf, Germany on December 4th, 1971...Power Gate is on another roll with 3 new RAINBOW titles..."Nowhere To Run" 1CD is the first of 2 Budokan shows, this one from August 26th, 1981 and "Catch The Night" 2CD boasts a stellar audience tape from October 22nd, 1982...the third release is only obtainable through a Japanese vendor if you purchase one of these first 2 - it's called "Paris 1982" 1CDR and captures their Hippodrome show in Paris on November 28th, 1982...the rest of the early March releases from Power Gate include:...ZZ TOP "Tube Snake Boogie" 2CDR, an April 19th, 1980 soundboard from Grugahalle in Essen, Germany...TED NUGENT "At Budokan", a 2CDR+DVD-R set with the audio taken from a May 17, 1978 show and the video is an earlier proshot document with the DEREK ST. HOLMES line-up on August 9th, 1976 in Koln...then we have the batch of WHITESNAKE releases with "Shakedown" 2CDR recorded at Nakano Sunplaza in Tokyo on April 14, 1980..."Hard N' Heavy" 4CDR documents 2 nights at Nakano Sunplaza on June 25th & 26th 1981, "Night Of The Sinner" 2CDR is from The Budokan on February 23rd, 1983..."In My Hour Of Need" is PG's new MEGADETH set 2CDR+Limited DVD-R...the audio is from a July 14, 1988 tape recording from Nakano Sunplaza, Tokyo - the DVD is called "Rust In N.Y." and is a 46 minute video from the Nassau Coliseum in Uniondale, NY on December 15, 1990. Finally, there is quite a JOHN LENNON 9CDR + CD-Rom box set on the market this month from a generic boot label and is called "John Lennon Complete Home Recordings 1975-1980"...it seems to be a collection of "The Lost Lennon Tapes" with some new addiitions, looks interesting.

Thank you for stopping in and have yourself a nice week. Bring on March!...as it's a step closer to Spring!

Svengi
February 27, 2006