Ok, without hesitating - THE WHO "The Cow Palace" DVD from 4Reel Productions should be out in April from the way it sounds and the latest word is that the picture on this print is simply outstanding and a new audio source has been married up to it!  Great news for all of us!  This is the infamous '73 show in San Francisco where Keith Moon ingested 2 whole Quaaludes and simply passes out - twice!...forcing Pete to awkwardly solicit "anyone who can play the drums" to rescue the show.  Most of us have seen the brief clips in several rockumentary programs but now we'll get to witness the entire event!  THAT my friends IS a bootleg!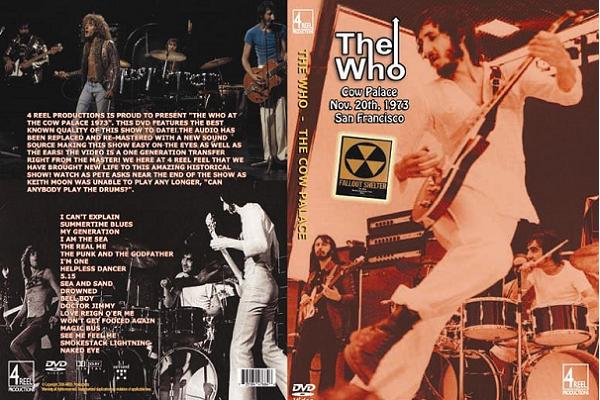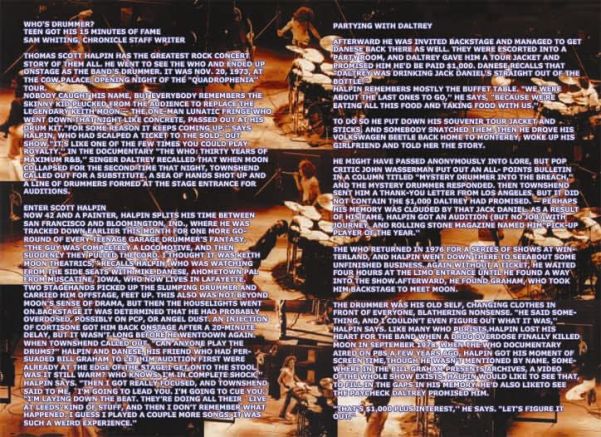 The 4Reel/Top Of The Line collaboration formally launches this week with the release of THE ROLLING STONES "Hampton '81 - Definitive Master Edition".  This production does indeed look pretty sweet...it is mastered onto a DVD-9 Dual Layer disc so there is no "flipping" the disc to enjoy the whole show.  Also, this is apparently a full-screen version - unlike Digital Line's superb presentation of the Japanese Jointrip version which was formatted into a "frame" - if you recall.  I'm all for giving this show the kit-glove treatment and truly giving collectors a "definitive", but my only concern at this point is that there is no mention of the pre-show footage with the final couple of songs from the opening GEORGE THOROGOOD set, etc. being included.  That extra footage and showing the band getting ready to literally take the stage behind the curtain with BILL GRAHAM really makes the whole event.  Perhaps it's all there, we'll have to wait and see...the packaging certainly looks fantastic!  I should mention that there is also a bonus clip of "Hang Fire" from the European Tour '82 tacked on.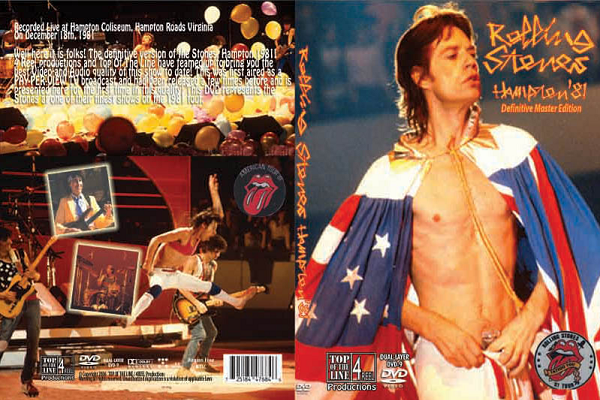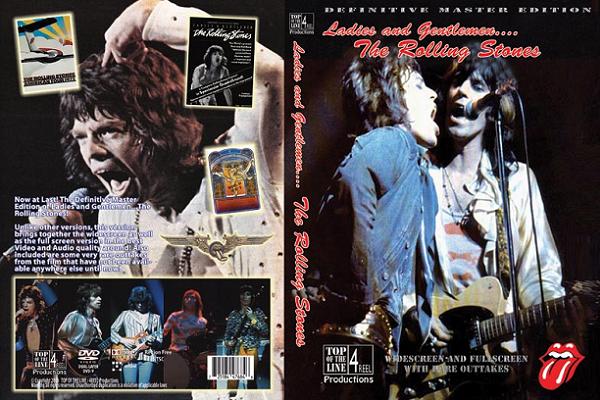 Also being issued with the above is 4Reels Remastered "Ladies & Gentlemen...The Rolling Stones" which will feature both the Widescreen Version and the Full-Screen Version on a DVD-9 both taken from 4Reels' master tapes...but the kicker here is that the release will also feature some newly discovered outtakes that will supposedly blow collectors away, being described as "jawdropping"  - along with a new source of the Dick Cavett '72 Tour Special featuring remastered audio too!  On the horizon is likely to be a ROLLING STONES "Atlantic City '89" DVD, their "Cocksucker Blues" DVD was just re-released ...but more importantly are the projects to come in late Spring/early Summer from the 4Reel/TOL collaboration.  Stay tuned to these pages for an intensely upgraded SLY & FAMILY STONE DVD project to trump Adventure Discs "My Own Beliefs"...AND...a BEACH BOYS 1971 proshot concert that has never seen the light before, coming on DVD with bonus footage.
In other STONES boot news...2 other DVD titles to include this week.  The Japanese Racket Queen Label has issued two DVD packages with bonus CDR audio..."Copacabana Beach" of course features the February 18th, 2006 Free Concert in Rio..."A Bigger Tango" is another Pro-shot, Digital Broadcast event from River Plate Stadium in Buenos Aries on February 21st...both include the stereo soundboard audio.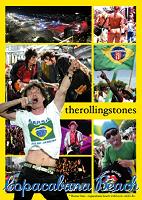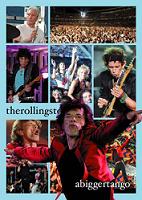 Other release news out of Japan in the last day or so...Rising Arrow has got the market cornered and completely covered with anything from RAINBOW...the latest is a robust 6CD set called "Triumph & Tragedy" which contains 3 Tokyo shows at The Budokan on January 21st, 22nd and February 3rd, 1978 - all in excellent audience quality.  As we gratuitously but nearly always inherently do...we follow with a related DEEP PURPLE-family title and this week it IS a later Mach-lineup from '91 with JOE LYNN TURNER...from the Darker Than Blue Label comes "Cantabile" 2CD from Palais des Omnisports de Bercy in Paris on February 26th of 1991 and boasting an excellent sounding audie source.  Alright, new on the Howard Carter & Uncle Gigament Label could only be a FRANK ZAPPA show...this double-CD (+bonus CDR) set is recorded live at Boston Music Hall, the early show from October 24, 1976 and is called "Don't You Want A Man Like Me?".  I wasn't able to ascertain what is provided on the bonus CDR, unfortunately.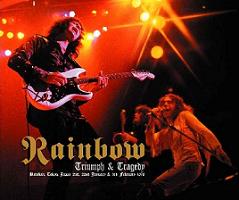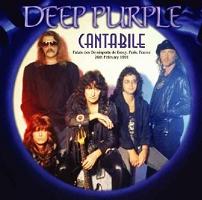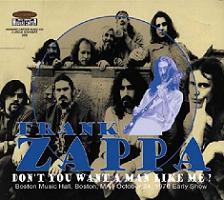 Speaking of families...The Godfather Records and sister labels have announced the titles to street March 31st.  On the GFR Label itself are several CD sets...BRUCE SPRINGSTEEN (& THE E STREET BAND) "Running Out Of Innocence" is a supreme 2CD release in a deluxe, trifold cardboard sleeve that houses 28 Born To Run and The Wild, The Innocent & The E Street Shuffle outtakes completely remastered!...the set also includes two 4-page booklets with extensive liner notes and promises to be "the definitive" of this coveted material.  Also coming from GFR...U2 "People Like Us" 2CD, a perfect stereo audience source tape from Copenhagen on July 31, 2005 in the usual deluxe GFR trifold plus 4 page booklet.  And then...here it comes...we talked about this months ago but now it's ready for the masses...coming to underground sources 'round the globe it's KISS "Not For The Innocent" 1CD/24 tracks, of ultra-rare superb studio outtakes from 1969- 1995 lifted directly from studio master reels and acetates to this highly anticipated CD, in deluxe packaging with 4-page accompanying booklet...it's sure to be a source of conversation and we are salivating a bit to get a listen ourselves here at HotWacks On-line!   Coming this week from Apocalypse Sound DVD...BRUCE SPRINGSTEEN & THE E STREET BAND "Lonesome Train To Maryland", a remastered Largo '80 proshot video, over 3-and-a-half hours from The Capital Centre on November 24th, 1980...and U2 "El Pueblo Vencera", TV Broadcasts from Buenos Aires, February 6th, 1998 & Foxboro Stadium on July 2nd, 1997...DEPECHE MODE "1997-1998", packaging 2 shows in superb audio and video quality...Koln (October 6, 1998) & L.A. (May 16, 1997)...and not to be forgotten is THIN LIZZY "Exile On Grafton Street" DVD from Goodfellas -available again and featuring the Regal Theater proshot concert from 1983, plus a  stellar collection of TV appearances.
That's all for this week!  I'll keep details coming as they are available on some of these upcoming releases...keep an eye on the ticker and visit HotWacks On-line often!  Catch ya next week and have a good one.
Svengi
March 27, 2006