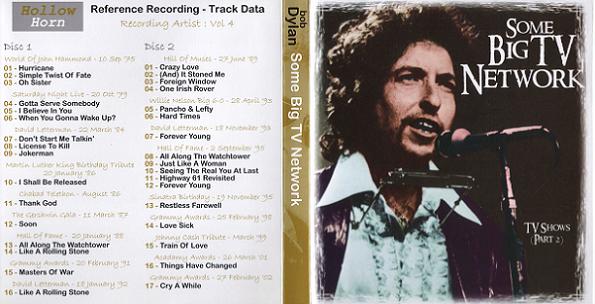 For a couple of months now, I kept quiet about the noticable delays between the releases in Hollow Horn's 2006 BOB DYLAN Performing Artist Series.  Then, I finally posed the question to the right person and learned quite a bit!  After the first 2 Volumes were issued in May, Volume 3, "For Somebody By Somebody", was announced towards the end of July - and then, silence.  Well it seems that Volume 3 went through a series of mastering problems and  just "officially" hit the streets in September.  In the meantime, the Reference Recordings for Volume 4 in the 8 title series, "Find Out Why", are hot off the press and not necessarily coming to a shop near you.  The facts as I've learned them are, Hollow Horn has reduced the number of pressings from 1000 copies per title in 2005, to 500 copies per title worldwide for this 2006 endeavor.  This latest 2 disc set fully documents a couple of legendary, early DYLAN performances...the April 12th, 1963 Town Hall show in New York, and his Carnegie Hall performance on October 26th, 1963.  These recordings are really something, Hollow Horn has been able to extract a naturalness out of most of these somewhat primitive recordings.  I hold my 2005 set in high regard and feel pretty much the same with this latest effort, though the tapes utilized this year are the real raw and rare Minnesota and New York tapes that shaped the legend that is BOB.  I've been told that Volume 5 should be out shortly but I never did get to ask if the expectation was still there to finish the series by end of year.  They still have time to do it so, look for the continuing saga of Hollow Horn on these pages...Some members were inquiring about the contents of a couple of releases, namely the Silent Sea CROSBY, STILLS, NASH /CSNY DVD, "Deja Vu On DVD" and I actually was able to confirm the loads of material on this one... it's got:
Woodstock '69 outtakes

Tom Jones and Dick Cavett Show 1969

Big Sur International Folk Festival 1969

Fillmore East 1970

Music Scene TV 1969

Graham Nash and David Crosby In Concert UK TV 1970

Neil Young BBC-TV February 23, 1971

US TV Appearance 1977 - 2 tracks

Bonus Tracks from The Byrds and Buffalo Springfield 1967 -1968...and more (123 minutes)
(*the setlist for the LED ZEPPELIN DVD "Assemblage" has been tacked on in the postscript.)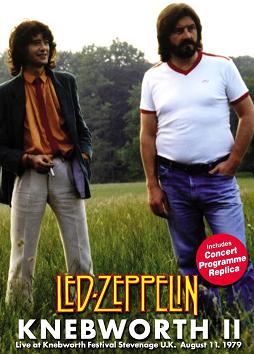 ...Here's some great news on that new LED ZEPPELIN double-DVD, "Assemblage"....Cosmic Energy is shipping the title this week so, if you've got this one on order in some fashion, your weekend looks very promising!  In other ZEP news, Scorpio just announced today that they will continue to keep the presses hot with yet another DVD-9 Dual-layer title...look for "Knebworth II" to surface towards the 1st of November.  This is another version of the second Knebworth proshot performance from August 11, 1979...this same title and format was released by Genuine Bastard some 18 months ago though this one from Scorpio comes with a miniature replica program from the event.  Not sure what the philosophy of the Scorpio Label is these days...their release schedule seems very odd, they seem to be in Ground Hog Day mode if you ask me.  I mean, if these titles are legitimate "upgrades", I could get behind the program but based on what I am seeing and hearing that is not the case.  I will hand it to them for keeping the silver disc production in play though!  Got an email from Blackdog at Genuine Masters over the weekend.  It sounds like he may resurrect the program and label in 2007 but for the balance of 2006, the production line will continue to be silent as they are in regroup mode on the GM front, I'll certainly keep you posted should that come about...
Out of Japan over the weekend came release news on other LED ZEP titles...Empress Valley has really embraced this DVD-Audio format and their latest "Texas International Pop Festival" comes with a miniature program and it seems the label is really trying to spread the word on their DVD-A efforts by pressing and issuing a ton of samplers which are causing quite a buzz...mostly for the teaser tune of "I Can't Quit You Baby" from a superb audience tape that is supposedly from an early January '69 show from LA's Whiskey A Go-Go...also from EV this week comes the 2CD set, "Ft. Worth Express" featuring the May 19, 1973 soundboard...Tarantura has a title that is out of the ordinary coming soon called "Lili Marleen", a numbered limited edition 4CD set that pairs up two shows from Hamburg, Germany on March 10th & 11th, 1970. 
4Reel Productions new ROLLING STONES "L.A. '75 - Definitive Master Edition" is also hitting the streets as I type, god I hope I get hold of a copy soon!  If it lives up to my self-imposed hype, I'm going to die smiling.  I love this era of the Stones and never more after seeing this current tour...however, get ready for a wave of new Stones titles from the Fall American leg of the Bigger Bang Tour...the guys seem to have finally gotten the message that the routine has gotten a bit stale and have infused local flavor at nearly every stop...it's about time, now drop the damn ticket prices and I'll drop the rant every time this tour is brought up.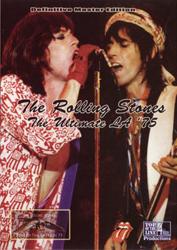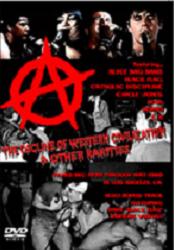 I have been told that recordings worthy of release or, for standard silver production, are few and far between.  Now, I get bombarded with tons of notifications on CDR and DVD-R titles and they aren't even knicking the good stuff I see offered up for download on the net!  It's right there and don't tell me they are respecting the uploaders threats and curses because it's never curbed the behavior before.  God bless the multitude of labels churning out shows on recordable media but unless it's a respected "name" or proven player (Hot Stuff!, Sister Morphine, Trial, Beezlebub Records, etc.), it's just not appealing.  Make an effort to provide interesting and somewhat exciting fare and we'll support the cause.  In the meantime, dig a little deeper into the Bit Torrents and extract some gems!..on that note, not that they are "gems" but, why aren't any labels kicking out some DOORS stuff?  There have been some good tapes, even upgrades, surfacing and I don't know why these things don't come around on the commercial market.  The list really goes on.  The Japanese Footstomp DVD-R label is one that is continually offering niche and different titles...such as this...a VARIOUS ARTISTS release called "The Decline Of Western Civilization & Other Rarities" that features a "legendary" film about the L.A. Punk Scene circa 1979-1980 with performances by BLACK FLAG, CIRCLE JERKS, X and others...now, I'm sure the audience for this is quite niche but it makes the landscape more interesting to read about and keep an interest that individuals are out there kicking this historical material up. 
There, that's it for this week.  More of a quick update than anything else and hopefully some thoughts that spawn conversation.  There are some really great titles still to reach our hands so that is exciting and I'm sure there are surprises waiting in the wings for this 4th Quarter yet too!  Keep the faith and keep the banter flowing!...and a big THANKS for stopping by, have yourself a great week!
Svengi, October 23, 2006
P.S!!!
Finally, the long-awaited follow up to the LED ZEPPELIN Cosmic Energy DVD series. This title features a wealth of footage that has surfaced since the last Cosmic Energy release (1979-1980) from 2002. This title completes the Cosmic Energy 1969-1980 series.


SOUND & SYNC
Los Angeles, CA 08.21.71
Houston, TX 08.26.71
Amsterdam 05.27.72
San Bernardino, CA 06.22.72
San Francisco, CA 06.02.73
Pittsburgh, PA 07.24.73
New York, NY 07.28.73
New York, NY 02.07.75
Philadelphia, PA 02.08.75
New York, NY 06.77 (2x)
New York, NY 06.14.77
Munich, Germany 07.05.80
    
SILENT
Headley Grange 1971
Montreux 08.07.71
Sydney, Australia 02.27.72
Tucson, AZ 06.29.72
Budokan, Japan 10.02.72
Los Angeles, CA 06.03.73
Starship News Footage 07.27.73
New York, New York 06.77
Plaza Hotel, New York 06.77

INTERVIEWS
Iceland 06.22.70
Nationwide 09.16.70
New York, New York 09.18.70
Brussels, Belgium 01.12.75
Great Britain 11.02.76
All Right Now 03.04.80

NEWS FOOTAGE
NBC NEWS 09.16.70
NBC NEWS 08.31.73 (int. with Plant)
NBC NEWS 1975 (int. With Grant)
CBS NEWS 09.25.80
    
BONUS
It'll be Me LA 06.26.77
Rockestra 12.29.79