Scorpio has the latest installment of their BOB DYLAN Genuine Bootleg Series poised for distribution this week...titled "GBS 4 - Fourth Time Around", the 3CD set pulls together another compilation of outtakes and alternates 1961-2004...here's the setlist:
Disc 1:  Rangers Command, Baby Let Me Follow You Down, Midnight Special, It Makes A Long Time Man Feel Bad, Baby Please Don't Go, Ballad Of The Gliding Swan, James Alley Blues, Lone Time Gone, Only A Hobo, Not The Cough Song, Hard Rain's A-Gonna Fall, Troubled And I Don't Know Why, Ballad Of Hollis Brown, Boots Of Spanish Leather, North Country Blues, Seven Curses, Eternal Circle, Mr. Tambourine Man, Outlaw Blues, Can You Please Crawl Out Your Window?, Keep It With Mine
Disc 2:  Tell Me Mama, Ain't Got No Home, See That My Grave Is Kept Clean, One Too Many Mornings, Song To Woody, If Not For You, Put My Money Down, For You Oh Babe For You, Going Going Gone, What Will You Do When Jesus Comes?, No Man Righteous, I Will Sing, Let's Keep It Between Us, Shot Of Love, In The Summertime, Let IT Be Me, The Grooms Still Waiting At The Altar, I And I, Side Walks Fences And Walls
Disc 3:  Soon, Ring Them Bells, Dignity, Two By Two, Born In Time, Wiggle Wiggle, TV Talkin' Song, Unbelievable, Under The Red Sky, Polly Vaughn, Catskill Serenade, Miss The Mississippi, Sloppy Drunk, If You Belong To Me, Anyway You Want Me, Lawdy Miss Claudy, Money Honey, Money Honey II, I Can't Get You Off My Mind, Return To Me, Red Cadillac And A Black Moustache, Tell Old Bill, A Change Is Gonna Come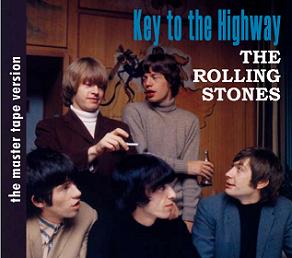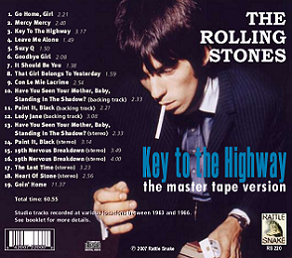 The RatteSnake Label has several new ROLLING STONES titles coming soon...pictured above is "Key To The Highway - The Master Tape Version" features the identical material released on Scorpio's "Time Trip Vol. 5" released this Summer, but apparently utilizes the master tapes of that particular collection and should be pretty amazing if that's the case...the label also has a few other STONES titles on the way..."Cold Sweat" 2CD contains the Dusseldorf show from August 13th, 2007 with bonus tracks from Hamburg on August 15th..."Please Please Me" 2CD presents the Slane Castle show from Dublin on August 15th, with bonus tracks taken from The Video House in Belgium on May 28th & 29th with several versions each of "Worried About You" and "Can't Be Seen' & more...also look for THE BEATLES "Sgt. Pepper Hearts Club Band...Naked!" from RattleSnake shortly into the new year...Dog N Cat Records will release the ROLLING STONES title, "Hungarian Rhapsody" 2CD that features the July 20, 2007 concert at The Puskas Ferenc Stadium in Budapest, Hungary...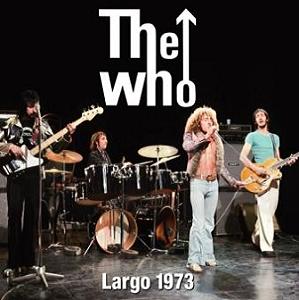 Two new generic European release featuring THE WHO have arrived on the scene this week...both "Largo 1973" and "Spectrum 1973" utilize the King Biscuit Flower Hour tapes featured at Wolfgang's vault and are quite excellent...the shows were recorded during the legendary Quadrophenia Tour and were taped on December 4th (Philadelphia Spectrum) and December 6th (Capital Centre, Largo, Maryland) respectively...Also arriving to market this week is the BEATLES "Off White" 9CD Box Set (below) with the subtitle of "The Complete Recordings Sessionography And Mixography" from the 1968 sessions that produced the White Album...from The Eye Records Label, a couple of recently released PRINCE titles..."Down By The River Thames" 4CD with the complete 02 Arena show in London on August 1, 2007 plus aftershow performance at Club Indigo in the wee hours of morning August 2nd and "Get On The Clipper Boat" 4CD documents the same sequence of performances at the same venues on August 7th & 8th...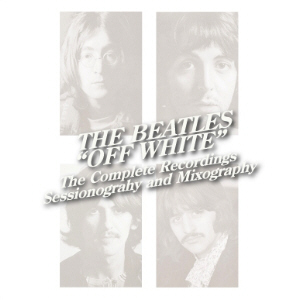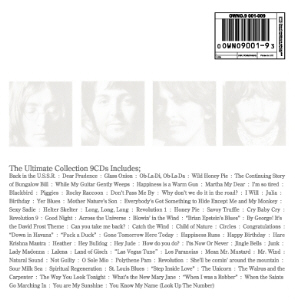 ...that's it for now!...while you're here on the site, click over to the Top 10 page and drop in your picks for top bootleg releases for 2007!!!  And, visit often for more updates...thanks all!
Svengi, December 26, 2007