There's some great looking PINK FLOYD titles that were just announced today from Sigma..."Dying Of Boredom" 2CD is the 8th release from the label and documents the bands' February 28, 1970 show at the Refectory at Leeds University with what is hinted as an upgraded audience source to what has circulated previously...the ninth release on the Sigma label is called "Acute Danger" 2CD and also indicates a promising upgrade to the Emerson Gym audience recording from Case Western Reserve University in Cleveland, Ohio on November 6, 1971...then, arriving via a generic label Euro DVD is the compilation, "Pro Shot In Europe 1969-1972" which promises "super quality"actually looks to be worth checking out, here's the tracklisting for the 77 minute color DVD:
BELGIUM 1969
Mont de L'Enclus, Amougies, Belgium (Amougies Pop & Jazz Festival) 25th October 1969
Set The Controls For The Heart Of The Sun/Careful With That Axe, Eugene
HOLLAND 1970
Kraalinge Bos, Rotterdam, Netherlands (Kralingen Pop Festival) 28th June 1970
Set The Controls For The Heart Of The Sun/A Saucerful Of Secrets
FRANCE 1971
ORTF, Abbaye de Royaumont, Royaumont, France 15th June 1971
Cymbaline/Set The Controls For The Heart Of The Sun
UK 1972
The Dome, Brighton, Sussex, UK 28th/29th June 1972
Careful With That Axe, Eugene/Set The Controls For The Heart Of The Sun
Bonus Track
- Grosser Saal, Musikhalle, Hamburg, West Germany 25th February 1971
Atom Heart Mother
- Stadthalle, Offenbach, West Germany 26th February 1971
A Saucerful Of Secrets
- French TV Documnentary for making soundtrack of "La Vallee"
- Robert Wyatt/I'm A Believer (with Nick Mason on drums) Top Of The Pops Sept 1974...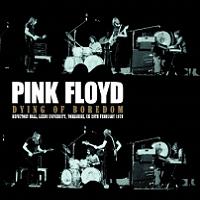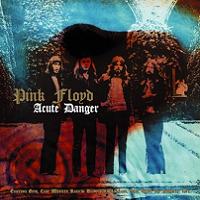 ...the next new release slated from the Tarantura label is that 1981  RAINBOW set  recorded in Nagoya we mentioned on the ticker this week...no other details on the actual CD title just yet...in the meantime, Tarantura issued their 2nd Edition of LED ZEPPELIN "For Your Life - Legendary Legend" with an alternate cover, the same approach was taken with the 2nd Edition of their October 10, 1969 disc released on the Black Dog Records Label only this one is titled "French MC Version" which is unedited with announcer voice-overs intact vs. their original issue that sold out in hours which had the French announcer snipets edited out, missing some of the live recording behind them...we should also point out that there is another version of the ZEP reunion show just issued on a generic silver disc production called "It's Been A Long Time" 2CD and utilizes a different tape source...In other ZEPPELIN boot news Empress Valley has re-issued a 2CD version of "Live On Blueberry Hill" which leverages the TMOQ source tape...Wendy Records next title for this Winter of 2008 will be "Tulsa Symphony: Ode To Joy" 2CD bringing what is hopefully a nice, clean presentation of the August 21, 1970 Tulsa audience tape that is really quite nice...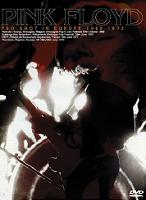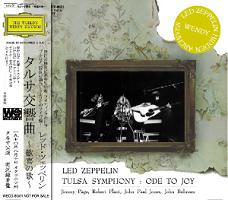 JIMMY PAGE is in Tokyo this week to promote the Mothership collection in Japan, again visiting the "specialty" record shops in the Shinjuku section of Tokyo. After selecting CDs, he started to watch the LED ZEPPELIN show at the O2 Arena on DVD.  In the photo below he is watching "In My Time Of Dying" and he watched it very intently.  Afterwards he was satisfied and gave a big smile. He seemed very impressed with the DVD and requested several copies...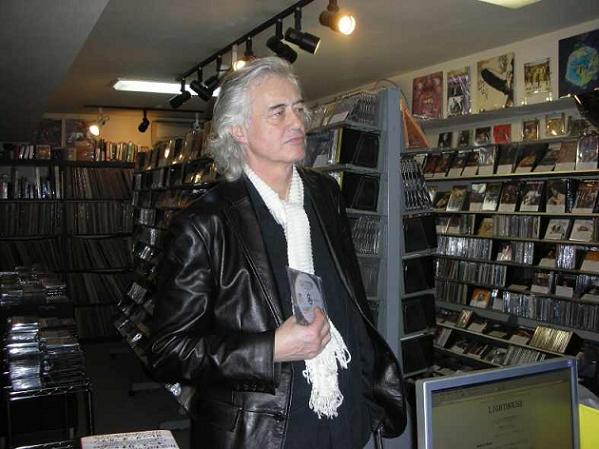 ...just in case you missed his press conference today, here's a link to the yahoo news article where he envisions taking the ZEPPELIN show on the road sometime after ROBERT PLANT's touring commitment with ALLISON KRAUSS are finished...
Yahoo News: Jimmy Page Press Conference
...finally,  if you can believe it there are a couple of new ROLLING STONES vinyl releases to mention this week from Rover Records - both titles are issued on colored vinyl and housed in a gatefold cover with printed sleeve inserts. ...they are "The Revolutionary Album Vol. 1" which presents studio outtakes from 1963-1968:
Go Home, Girl/Mercy Mercy/Key To The Highway/Have You seen Your Mother, Baby, Standing In The Shadow?/Get Yourself Together/Yesterday Papers/Sometimes Happy, Sometimes Blue/Old King Cole/Parachute Woman/Sister Morphine/Child Of The Moon/Pay Your Dues/Stray Cat Blues/Jumpin' Jack Flash/Factory Girl
...and "The Revolutionary Album Vol. 2" presenting studio outtakes 1968-1970:
Dear Doctor/No Expectations/You Got The Silver/Gimme Shelter/Loving Cup/Wild Horses/Brown Sugar/Wild Horses #2/Dead Flowers/Bitch
That's a wrap for this January eve...thanks for swinging in to check out the latest on what's going on with bootleg releases this week. Have a good one and we'll do it again very soon!
Svengi, January 28, 2008