After a long period of silence, breaking the string of unanswered email attempts comes word from Aurora Borealis on the often discussed and long time coming CROSBY, STILLS, NASH & YOUNG career-spanning CD/DVD box set. Supplementing the technical upgrades delay last fall on the project are issues with real life scheduling conflicts in making progress, along with the fact that at points where progress was achieved there would be other new material obtained, submitted, discovered and learned about to force the producers to pause and track down every little snippet in the name of making it as comprehensive as can be.  This has been the message before and doesn't really change anything but efforts are being stepped up to provide the necessary focus to wrap this package up sometime over the next few months.  As I understand it, the NEIL YOUNG DVD project that was to precede the big box is still on the docket as well and we should still expect it just prior to the box.  Where does that actually leave us?  The Aurora Borealis projects are still on and we should expect to hear more about them over the coming weeks. Connection re-established...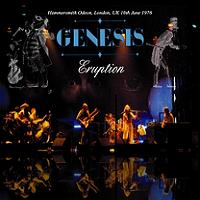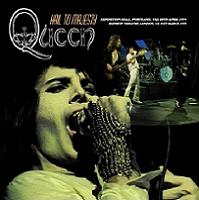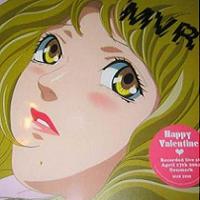 ...Announcements out Japan today include the GENESIS title "Eruption" 3CD from the Virtuoso Label which leverages a June 10, 1976 stereo soundboard from the Hammersmith Odeon in London...and after a bit of a hiatus on the silver disc production track, Wardour is back with a new QUEEN CD/DVD-R set titled "Hail To Majesty" which combines an excellent audience tape from Exposition Hall in Portland on April 28, 1974 and another audience fragment from a March 31,1974 at The Rainbow Theater in London.  The supplementary 52 minute proshot DVD-R captures the band at a late-74 performance at The Rainbow again, this time on November 20th...On the Our Kid Nogger Label comes the OASIS single disc soundboard, "Are You Gonna Be The One Who Saves Me?", recoreded at Exhbition Centre in Aberdeen, Scotland on September 10, 2002...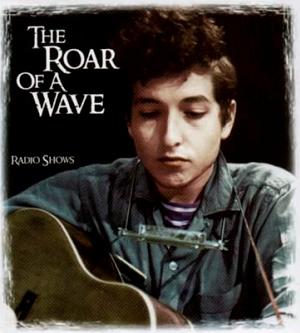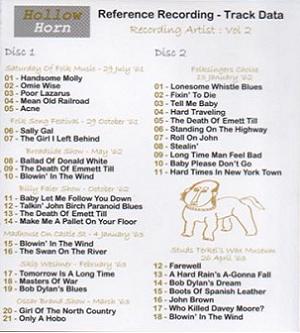 ...Hollow Horn has picked up the trail again on their BOB DYLAN Recording Artist Series by announcing that the next double-CD will focus on Bob's 60's Radio Show Broadcasts and is titled "The Roar Of A Wave"...the rather interesting selections that make up the tracklistings are:
DISC ONE
Tracks 1-5: Saturday Of Folk Music July 29, 1961
1. Handsome Molly
2. Omie Wise
3. Poor Lazerus
4. Mean Old Railroad
5. Acne
Tracks 6-7 Folk Song Festival October 29, 1961
6. Sallie Gal
7. The Girl I Left Behind
Tracks 8-10 Broadside Show May 1962
8. Ballad Of Donald White
9. The Death Of Emmett Till
10. Blowin' In The Wind
Tracks 11-14 Billy Faier Show October 1962
11. Baby Let Me Follow You Down
12. Talkin' John Birch Paranoid Blues
13. The Death Of Emmett Till
14. Make Me A Pallet On Your Floor
Tracks 15-16 Madhouse On Castle St. January 4, 1963
15. Blowin' In The Wind
16. The Swan On The River
Tracks 17-19 Skip Weshner Show February 1963
17. Tommorrow Is A Long Time
18. Masters Of War
19. Bob Dylan's Blues
Tracks 20-21 Oscar Brand Show March 1963
20. Girl Of The North Country
21. Only A Hobo
DISC TWO
Tracks 1-11 Folksinger's Choice January 1962
1. Lonesome Whistle Blues
2. Fixin' To Die
3. Tell Me Baby
4. Hard Traveling
5. The Death Of Emmett Till
6. Standing On The Highway
7. Roll On John
8. Stealin'
9. Long Time Man Feel Bad
10. Baby Please Don't Go
11. Hard Times In New York Town
Tracks 12-18 Stud Terkel's Wax Museum
12. Farewell
13. A Hard Rain's A-Gonna Fall
14. Bob Dylan's Dream
15. Boots Of Spanish Leather
16. John Brown
17. Who Killed Davey Moore?
18. Blowin' In The Wind
...and finally, the head-scratcher of the week goes to the Sister Morphine Label and their next ROLLING STONES project "Sweet Virginia" 2CDR set which will be, incredibly, the Hampton Roads Virginia stereo soundboard/broadcast from December 18, 1981...go figure...
That's it for this week albeit a bit slim but good stuff continuing to be unearthed and presented very nicely.  Please tune in through the week as the tidbits come across and I'll meet you back in this corner for yet another recap next Monday!  Have a good one.
Svengi, February 18, 2008