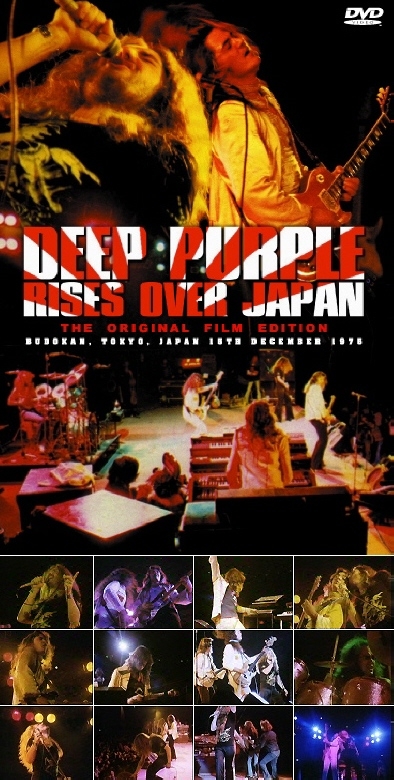 ...1970's DEEP PURPLE proshot footage is pretty scarce (aside from the common California Jam '74 show).  So, imagine the surprised looks on a few collectors faces to see the news come across from Japan earlier today when the DVD "Rises Over Japan: The Original Film Edition" was announced...you can bet I was one of those.  This No Label proshot production features the Mark V line-up of DAVID COVERDALE, GLENN HUGHES, TOMMY BOLIN, JON LORD & IAN PAICE filmed live at Budokan in Tokyo on December 15, 1975.  The downside?...It's only a 5-track fragment of the performance, including "Burn", "Love Child", "Smoke On The Water", "You Keep On Moving" and "Highway Star".  However, this 1975 rarity is supplemented with roughly another hours' worth of earlier PURPLE and family-related clips (total running time is approximately 83 minutes).  The other performances on this collection come from:
 'Pop Deux' Paris TV on October 8,1970 - "Wring That Neck" & "Mandrake Root"

Hammersmith Odeon, London on May 9, 1974 - "Burn"

RAINBOW - Tivoli Konsertstal, Copenhagen, September 22, 1976 (4 tracks)  1. Intro. 2. 16th Century Greensleeves 1 3. 16th Century Greensleeves 2 4. Catch The Rainbow 1
5. Catch The Rainbow 2 6. Guitar Crash 7. Do You Close Your Eyes

RAINBOW - Falconer Theater, Copenhagen, October 1, 1977 (10 tracks) 1. Intro. 2. Over The Rainbow 3. Kill The King 1 4. Kill The King 2 5. Mistreated 6. Guitar Solo(Mistreated) 7. 16th Century Greensleeves Intro. 8. Guitar Solo(16th Century Greensleeves) 9. Long Live Rock 'n' Roll 10. Guitar Solo/Lazy 11. Guitar Solo(Still I'm Sad) 12. Guitar Crash(Do You Close Your Eyes)...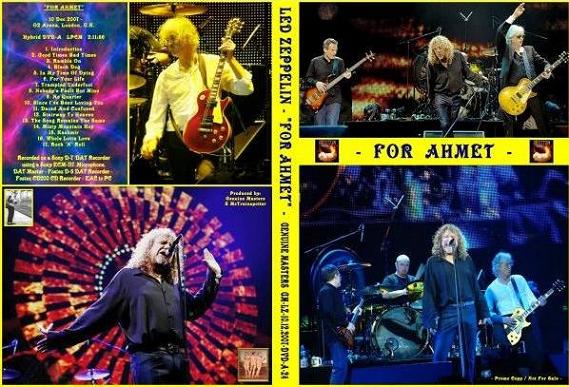 ...Continuing the theme of surprises from somewhere over the rainbow...GENUINE MASTERS is back on the radar with the announcement this past Thursday that Black Dog was enticed out of retirement to partner with Jules McTrainspotter in producing the one-off Hybrid DVD-Audio, "For Ahmet", the 131-minute McTrainspotter tape of the LED ZEPPELIN reunion show at 02 Arena, London, on December 10th.  The production allows Black Dog to polish up the stellar recording, procured from dead center on the floor, about 20 feet from the stage...marry up approximately 600 high-resolution images to accompany the PCM stereo uncompressed DAT audio track and you have a sure-fire winning production.  The title is expected to hit the market August 22nd via retail to collectors - and it will also be made available as a one-time bit torrent download, complete with original image files, at a few of the usual torrenting platforms ZEP collectors are known to share...this is a great tape and put in the hands of Black Dog makes this title something to look forward to...and, there's more ZEPPELIN...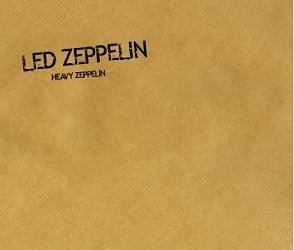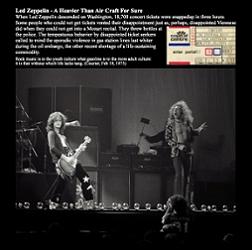 ...The Chronicles of Led Zeppelin (TCOLZ) Label is forging a name for itself but the jury is still out on whether that's a good thing, or bad.  The philosophy of the all-ZEP bootleg label is to leverage uncirculated tapes or tapes that haven't been previously available via silver commercial bootleg.  While I like the choices the producers have made, they are really for the completist or hard-core LED ZEPPELIN collectors.  It's probably a good thing they are limited to a hundred copies apiece!  The audience tapes being brought forth are marginal at best and this latest 3CD effort, "Heavy Zeppelin", contains a REALLY marginal tape of a REALLY ugly performance from the Capital Centre in Landover, Maryland on February 10, 1975.  The band were in pretty rough shape, especially ROBERT PLANT who was still fighting the flu 3 weeks into the tour...and on a pretty poor recording it makes it that much worse...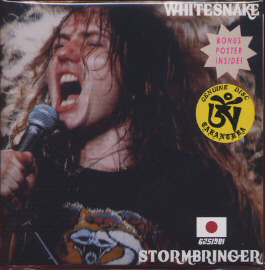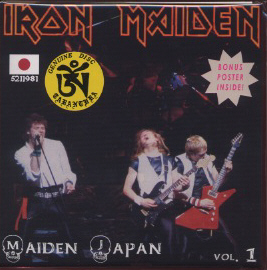 ...Tarantura wasn't going to be denied further attention this week and released a couple of new titles over the weekend.  WHITESNAKE "Stormbringer" 2CD contains their June 25, 1981 performance from Nakano Sun Plaza in Tokyo via audience tape, and IRON MAIDEN "Maiden Japan Vol.1" 2CD captures the band live during their early, 6:30 show, at Koseinenkin-Kaikan Dai-Hall, Tokyo on May 21, 1981...
...Finally, we were due for some sort of ROLLING STONES release update and the token title for this week is from SODD, who are bringing their version of the relatively new tape from the early show in Copenhagen on October 7, 1973..the title is called "An Afternoon In Copenhagen"...
...The New Swingin' Pig Label has virtually kept the vinyl presses running all Spring and Summer, regularly introducing new bootleg LP titles into the underground circuit and they have recently issued these limited pressings of 500 copies, amongst others: 
BOB DYLAN "Only A Hobo" (previously unreleased 1963 sessions) on blue splash vinyl,
AC/DC "A Giant Dose Of Rock N' Roll" (Haymarket, Sydney January 30,1977)
Three IRON MAIDEN LP sets:  "All Hell Broke Loose At Wembley" London 1990, "A Quiet Night In Holland" 1981, "Somewhere Back In Brazil" Porto, Alegre, March 5, 2008
And that's a wrap for this rather quiet week, but some good stuff being brought to the table above.  Have a great week and I'll meet you back here next Monday night.  Thank you.
Svengi, August 4, 2008