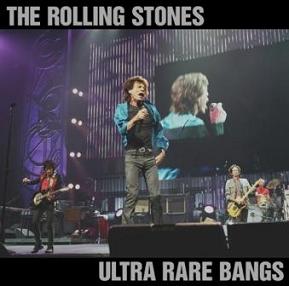 ...A batch of Non-Label fare this week, leading off with what I still condsider a pretty pointless ROLLING STONES compilation taken from various Bigger Bang World Tour stereo soundboard recordings, called "Ultra Rare Bangs" the double-CD setlist maps out like this:
Disc 1
1. Start Me Up (Grand Stage, Shanghai, China 8th April 2006)
2. Shattered (Fenway Park, Boston, MA. USA 21st August 2005)
3. Let's Spend The Night Together (Qwest Field, Seattle, WA. USA 17th October 2006)
4. Sweet Virginia (Scott Stadium, Charlottesville, VA. USA 6th October 2005)
5. Dead Flowers (Churchill Downs, Louisville, KY. USA 29th September 2006)
6. Rain Fall Down (Pepsi Center Denver, CO. USA 24th November 2005)
7. Back Of My Hand (Fenway Park, Boston, MA. USA 21st August 2005)
8. Angie (Westpac Stadium, Wellington, New Zealand 18th April 2006)
9. Con Le Mie Lacrime (Stadio Giuseppe Meazza, San Siro, Milan, Italy 11th July 2006)
10. Gimme Shelter (Madison Square Garden, New York, USA 18th January 2006)
11. I'll Go Crazy (Jaz Beach, Budva, Montenegro 9th July 2007)
12. It Won't Take Long (PETCO Park, San Diego, CA. USA 11th November 2005)
13. Rocks Off (Parken, Copenhagen, Denmark 5th August 2007)
14. Waiting On A Friend (Bradley Center, Milwaukee, WI. USA 8th September 2005)
15. This Place Is Empty (River Plate Stadium, Buenos Aires, Argentina 21st February 2006)
16. Infamy (Hollywood Bowl, Los Angeles, CA. USA 8th November 2005)
Disc 2
1. Oh No, Not You Again (Key Arena, Seattle, WA. USA 30th October 2005)
2. Heartbreaker (Giants Stadium, East Rutherford, NJ. USA 15th September 2005)
3. She Was Hot (The O2 Arena, London, UK 26th August 2007)
4. It's All Over Now (Werchter Park, Werchter, Belgium 5th June 2007)
5. Rough Justice (Comerica Park, Detroit, MI. USA 31st August 2005)
6. Jumping Jack Flash (Copacabana, Rio de Janeiro, Brazil 18th February 2006)
7. Monkey Man (Tour Rehearsals, Brussels, Belgium 1st June 2007)
8. Love Is Strong (Outdoor Exhibition Centre, Brno, Czech Republic 22nd July2007)
9. Midnight Rambler (PETCO Park, San Diego, CA. USA 11th November 2005)
10. Sway (Hampden Park, Glasgow, UK 25th August 2006)
11. Sympathy For The Devil(Isle Of Wight, UK 10th June 2007)
12. Paint It Black (Forum Horsens, Horsens, Denmark 3rd September 2006)
13. Brown Sugar (Saitama Super Arena, Saitama, Japan 2nd April 2006)
14. Satisfaction (River Plate Stadium, Buenos Aires, Argentina 21st February 2006)
...ROD STEWART "Blonde Jokes" 2CD features one of the Manchester U.K 1978 stereo soundboard tapes from which familiar King Biscuit Flower Hour Radio broadcasts were assembled - this one from December 6th performance at The Bellvue - and features a fantastic, rockin' versions of "Born Loose" as part of the Blondes Have More Fun Tour setlists...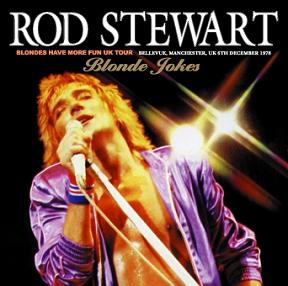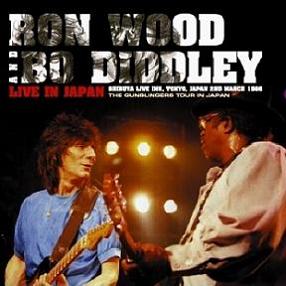 ...This is without question the bright spot in the release news this week, RON WOOD & BO DIDDLEY "Live In Japan" 1CD plus bonus DVD-R.  The audio CD presents a stereo soundboard tape, recorded live at the Shibuya Live Inn, Tokyo, Japan on the 2nd March, 1988...while the bonus DVD footage is taken from a proshot Super Live Japanese Broadcast of the Nakano Sun Plaza concert in Tokyo on March 7, 1988...Only one other notable title to report and this OASIS "Home To Home" DVD featuring a complete video of their G-Mex concert on December 14, 2007...
That's really it for this week...it's hard to believe things are really this quiet!  Thank you very much for making the pitstop to see what's going on via the world of underground.  Have a great week!
Svengi, August 25, 2008