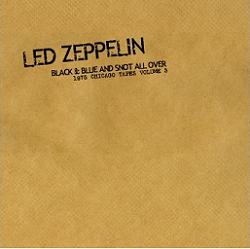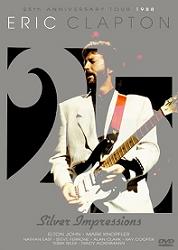 ...In true fanatical networking fashion, the LED ZEPPELIN collecting community was treated to the efforts of a few individuals who coordinated the discovery and delivery of cassette tapes of the 2nd night in Chicago on January 22nd, 1975.  The cassettes needed some care and repair in the process of getting the contents digitally transferred to share with the masses over at Royal Orleans and Dime-A-Dozen for download.  The results are pretty great and the recording itself is very clear and enjoyable. Giving this nearly complete new tape silver disc treatment is appropriately enough The Chronicles Of Led Zeppelin Label and the latest release in their series, "Black & Blue And Snot All Over: 1975 Chicago Tapes Volume 3" 2CD set...In other ZEP boot news, Empress Valley released a 2nd edition of the popular "The Maximum Destroyer" 3CD/2DVD-Audio set in a Jewelcase package and features, of course, the excellent Cleveland soundboard tape from April 27, 1977...Wendy Records is set to issue their version of "Pb" which will no doubt pair the audience tape fragment from Vancouver on March 21, 1970 with the legendary FM sounboard recording...and, Tarantura will issue the ZEPPELIN 4CD Limited Edition set, "LA Forum 1971" packaging both tapes from August 20th and 21st in a deluxe presentation...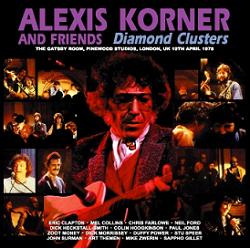 ...Also just announced are a couple of No Label titles that include the ERIC CLAPTON DVD, "Silver Impressions" (top) which presents his 129-minute Tokyo Dome concert on November 22nd, 1988 in proshot quality...and here is a cool title, ALEXIS KORNER AND FRIENDS "Diamond Clusters" 2CD (above) that features a stereo soundboard recording of an all-star line-up at The Gatsby Room in Pinewood Studios, London on April 19, 1978 - transferred directly from the master tape.  The show also features CLAPTON, saxophonist MEL COLLINS, DICK HECKSTALL-SMITH, CHRIS FARLOWE and more...New CLAPTON titles from Mid Valley as well..."Hard Rock Calling" 2CD+DVD features his June 28th, 2008 London concert - both audience and soundboard tapes, "Back Again" 4CD is a CLAPTON/BILLY PRESTON show on July 3, 2004 at the Tweeter Center in Boston, "Season" is a 4CD/DVD set documenting shows in Ireland on June 20th and 21st, 2008...and "Lucifer" is the title of a ROLLING STONES/CLAPTON 4CD package that compiles 2 audience sources from Madison Square Garden on June 22, 1975...Also from Mid Valley comes GEORGE HARRISON "A Quiet Storm" (All Things Must Pass Demos/Outtakes/Sessions), a 6CD Limited Edition Slipcase set that allows for storage of previously issued titles and is also available in a 14CD completely stocked edition...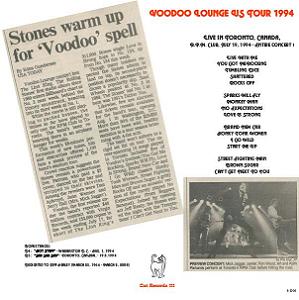 ...Some new ROLLING STONES vinyl on the immediate horizon...pictured above is the 2LP Colored Vinyl Limited pressing edition of "Secret Lounge" from Cat Records, containing the Voodoo Lounge warm-up show at the RPM Club in Toronto on July 19, 1994 with a couple of bonus tracks of 'Hot Stuff' from Washington D.C. on August 1st and 'Sad Sad Sad' from the official Toronto concert on August 19th at CNE Stadium...pictured below is the 30th Anniversary 10-inch vinyl edition of KEITH RICHARDS "Run Rudolph Run" and "The Harder They Come" on the Mindless Records Label, with previously unreleased bonus tracks that feature a STONES session outtake from RCA Studios in August '78, "Your Angel Steps Out Of Heaven", "The Harder They Come" which is an 'early organ' version featuring MICK JAGGER, and a live soundcheck version of "Run Rudolph Run" from THE NEW BARBARIANS in Milwaukee on April 29th, 1979...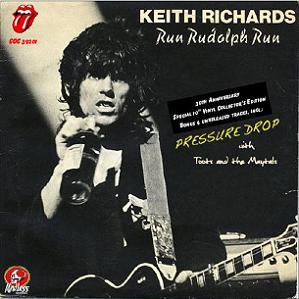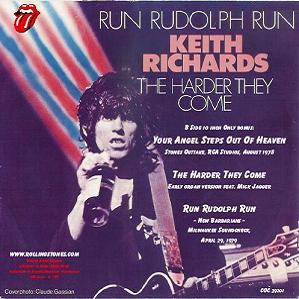 ...Finally, Thinman Records released 2 new BOB DYLAN titles late last week...displayed below are "A Higher Calling To An Ordinary People" 2CD contains an audience recording from the Santa Monica Civic Auditorium on November 21, 1979 and "Ain't Slept In Three Days" 2CD contains on of the performances from the string of shows at The Fox Warfield in San Francisco in November of 1979...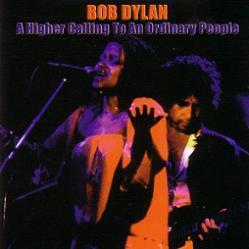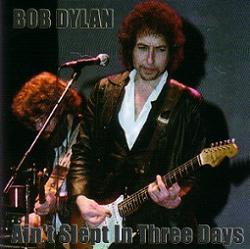 That's the skinny for this week!  Thanks for driving by to catch up on what's circulating or about too...have yourself a great week and enjoy the intermittent waves of Summer warmth mixed in with the cool Autumn air during this transtion of seasons.  I'll meet you back here next Monday.
Svengi, September 29, 2008