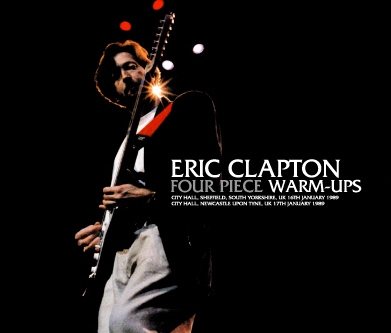 ...Perhaps it's just me but 2009 seems to be quite a year for ERIC CLAPTON bootlegs, in terms of the numbers and frequency of announced titles.  Above is the latest title from Beano, "Four Piece Warm-Ups" 4CD which documents back-to-back nights in Sheffield, UK on January 16th - and in Newcastle Upon Tyne on January 17th, 1989 with a pair of excellent audience recordings...Below, the latest efforts from Tarantura..."Boogie Chillen' - His Alibi For The Second Night" presents a new audience source for EC's performance at The Budokan in Tokyo on December 5th, 1990...Also, CREAM "Firebird" 1CD captures the power trio live at the Oakdale Music Centre in Wallingford, Connecticuit on June 15, 1968...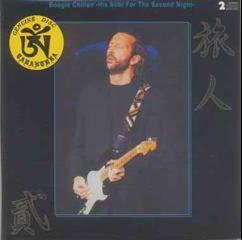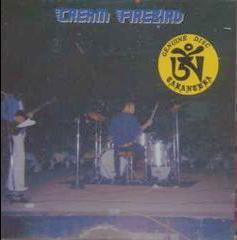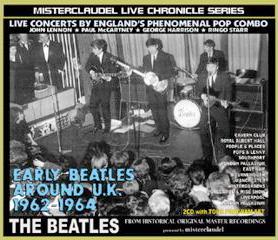 ...Misterclaudel has just announced THE BEATLES "Early Beatles Around U.K. 1962-1964", a 2CD set that includes a replica tour book...
...Next up from Darker Than Blue will be the RAINBOW 2CD/DVD set "Monsters Of Rock 1980 - Definitive Edition" which utilizes a superb audience audio recording, and an incomplete proshot video of the performance...prefacing the concert footage on the DVD is a two-part video tape of COZY POWELL's appearance on the Young Drummer Competition, a video transferred from his personal video collection...above, the Definitive Edition front cover along with a sample/cross-section of video screenshots...
Finally, did you indulge in purchasing either of the new BEATLES Remasters Box Sets?...or, like me, pick up a sampling of the individual stereo releases?  What do you think? All in all my feeling is that EMI/Capitol/Apple Corp did a wonderful job on this very important catalog.  Most of what I've heard is really excellent but, I'm kicking myself for not ordering a Mono Box Set so I haven't been able to listen to those versions at all.  Now I'm on a mission!  I should add that I did notice some strange fades in some of the multi-layer tracks that I've never heard before which underscores the incredible detail of the tape transfers by the engineers on the project. Perhaps a more justified criticism is the awkward disc storage design of the slip panel action of the beautiful sleeves in which the bare discs seem a bit vulnerable and have me looking for some sleeves to put the discs in!...Anyway, now the family mission for Christmas is to get a Deluxe Edition of the Rock Band video game! 
Thanks for swinging by and have a great week...
Svengi, September 14, 2009