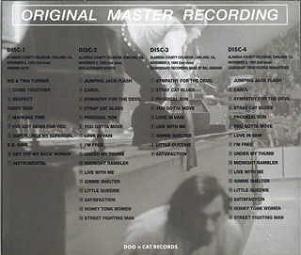 ...Isn't it just like a bootleg label to make you buy what you already have (ten-fold for Stones' collectors) just to get something 'new'?  Well, Dog N Cat Records will issue a 4CD version of THE ROLLING STONES "Live'R Than You'll Ever Be" this week, which includes a new alternate audience source of the 2nd show from the Oakland Coliseum on November 9, 1969.  In fact, the complete breakdown of the contents is that recordings of the opening acts IKE & TINA TURNER, TERRY REID, B.B. KING make up entire disc1, the new audience tape of the STONES on disc 2, the partial soundboard source on disc 3, and a remastered original TMOQ source tape on disc 4...for those that can wait, it is rumored that The Godfather Records may release a single disc version with just this new audience source with their January 2011 releases!..Let's hope so...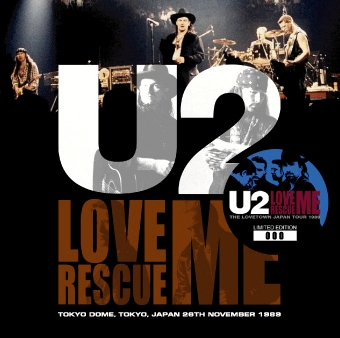 ...The new offering from Wardour to finish the year looks quite good...U2 "Love Rescue Me" 2CD captures the band in top form on the Rattle 'N Hum Tour in Japan, this recording from the Tokyo Dome on November 26, 1989, transferred from a superb audience tape...a limited number of early versions include the piggyback 2CDR, "First Night At Dome" containing the November 25th, 1989 show via audience source...
...Finally, just a huge thank you to everyone for your support throughout 2010 and making the collecting an interesting experience for us all!  If you are so inclined to share with us which bootlegs you feel were the tops for the year, visit the Top 10 page and post your selections!  We would all like to revisit and compare notes.  Other than that, best wishes for a Happy New Year 2011 to you all...Thank You...
Svengi, December 28, 2010