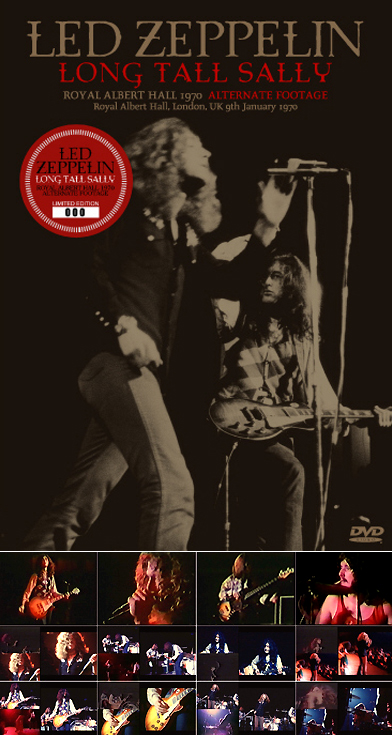 ...Plenty of LED ZEPPELIN (and related) to talk about this week...above we have a non-label DVD release, "Long Tall Sally: Royal Albert Hall Alternate Footage", which features an alternate cut of the January 9, 1970 proshot video, plus single camera footage in fragments --and what is called 'Official Cut Analysis' feature utilizing multi-angle comparison...below, the latest ZEP Blu Ray Limited Edition double-disc from Cosmic Energy, "First Class Ticket" which came across today boasting a huge upgrade to the final Earl's Court performance in London on May 25, 1975 and comes with foldout poster...And there's more...Empress Valley seems to have the conveyor belts moving again and delivering some new titles on top of some reissues...New from EV is "Listen To This Eddie" 4-disc DVD-Audio of the June 21, 1977 Mike Milllard tape, the set includes two mixes: 192Khz/24 Bit 2 Channel Stereo and 96Khz/5.1 Dolby Digital Surround Sound and available in 2 versions with different & unique artwork - the extremely limited black digipack or the standard edition white digipack..."Burned Out Candle" 3CD presents their Tuscon, Arizona performance on June 28, 1970 in a paper sleeve w/slipcase...Wendy Records next LED ZEPPELIN title is "I Left My Heart In Montreux" 2CD, featuring the excellent March 7, 1970 performance and tape, from the Graf Zeppelin Label - "No Longer Down Under" 2CD with the February 20, 1972 Melbourne concert and utilizing a previously available source tape in a limited, numbered edition title..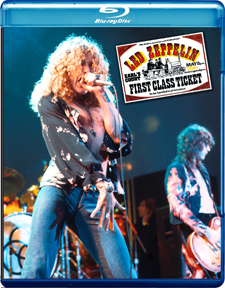 ...In another non-label effort, "Jason Bonham's Led Zeppelin Experience - Celebrating The Music Of Led Zeppelin" 2CD captures his November 16, 2010 presentation of the tribute at Houston's Verizon Wireless Center...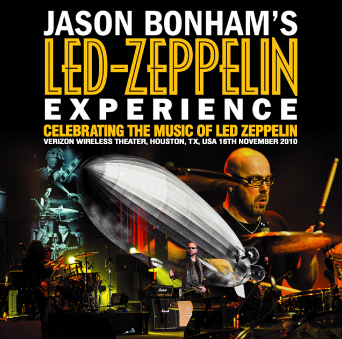 ...In more Japanese release news, Mid Valley will issue the BOB DYLAN 4CD "Night Of The Hurricane" on their Sampler Label, containing the December 8, 1975 Hurricane Carter Benefit at Madison Square Garden...and, ERIC CLAPTON "Old Grey Whistle Test" CD/DVD combo pack with the April 26, 1977 soundboard and TV broadcast of the appearance, CLAPTON "Exquisite Instruments" DVD compiles his November 2, 2010 TV appearance on Jools Holland, plus his concert at Royal Albert Hall on November 17th...Watch for what should be a very interesting PAUL McCARTNEY release from Misterclaudel expected to arrive soon - "Rockestra" 2CD/2DVD...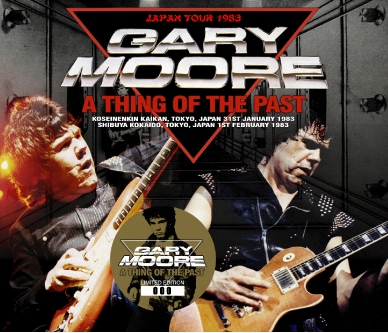 ...The Shades Label has had much to pay tribute to over the past several months.  With the recent passing of guitar hero GARY MOORE, the label delivers a nice audio memoir called "A Thing Of The Past" (above), a 4CD title that pairs a couple of stellar 1983 audience tapes - at Koseinenkin Kaikan, Tokyo, Japan on January 31st and Shibuya Kokaido in Tokyo on Feburary 1st...Also arriving in early March from Shades is DIO "Hammersmith Trilogy" (below), a 3CD set that presents three soundboard tapes from The Hammersmith Odeon in London on October 5, 1984 - May 13, 1986- and December 5, 1987...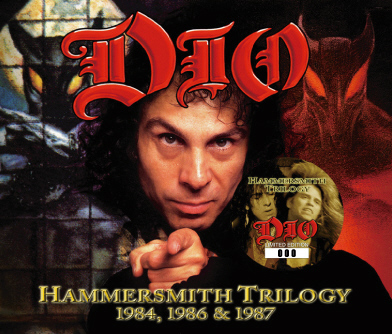 ...There's a new HEAVEN & HELL DVD hitting the streets..."Live At The Edge Of The World" is actually a double DVD set that pairs a couple of really nice proshot vids from Binghamton, New York on September 5, 2007, and a multi-camera/2 audio source production from M.E.N. Arena in Manchester, UK on November 9, 2007, providing 3 hours of viewing pleasure...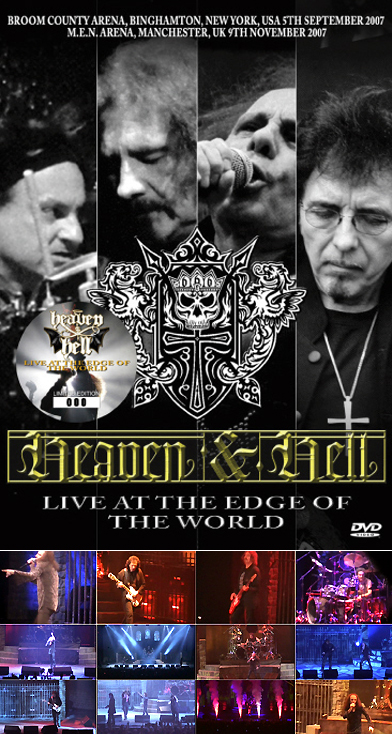 ...Check out the early-March box sets below that will be plugging holes on collector shelves all over the globe...The PAUL McCARTNEY Box is courtesy of Rapple Records...The ROLLING STONES, BOB DYLAN and AC/DC sets are courtesy of Wonderland Records..and they all look absoluely wonderful....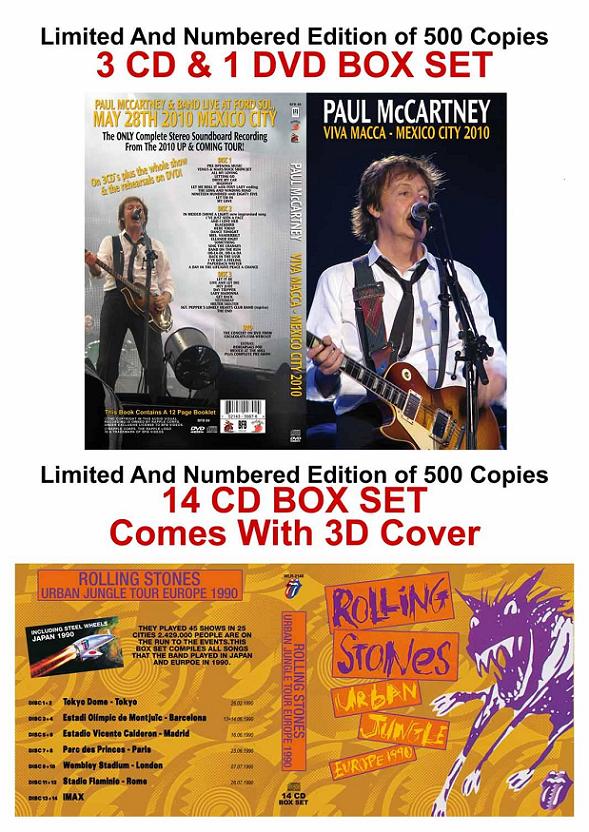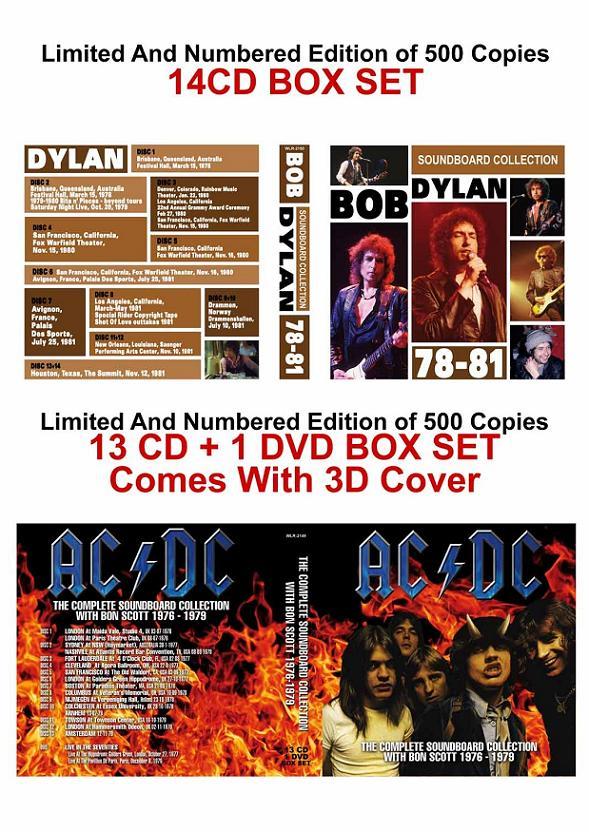 ...Finally tonight, a couple of exquisite  ROLLING STONES vinyl/CD, deluxe combo sets on the way from Red Tongue Records, they really provide STONES collecting enthusiasts with some value-packed offerings...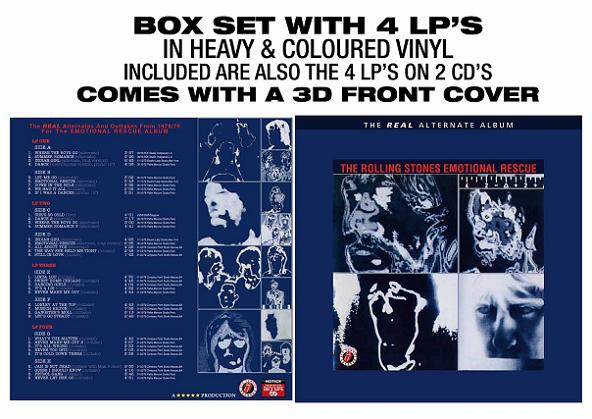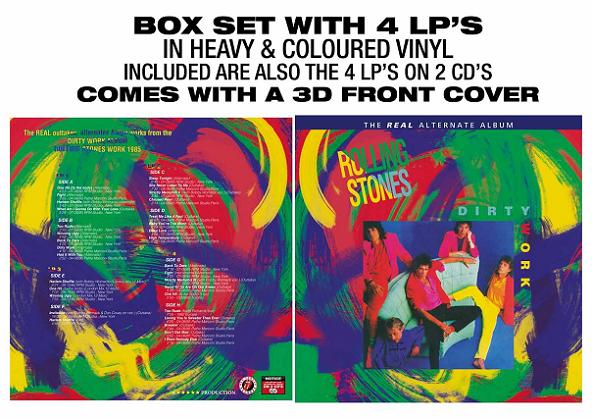 ...And that brings us to my concluding weekly wishes...Have yourself a great week and thank you for stopping by!...
Svengi, February 22, 2011