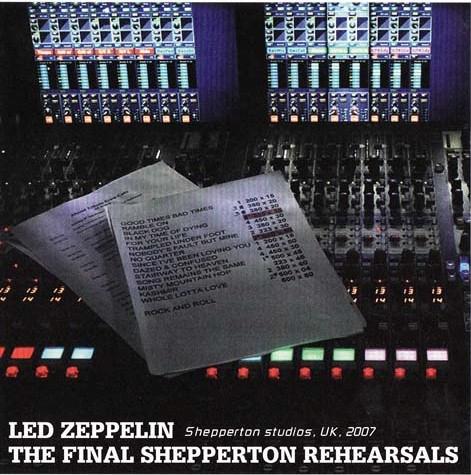 ...About a month ago (4th of July weekend), the final rehearsal of the reunited LED ZEPPELIN from Shepperton Studios in December 2007 as they prepared for the AHMET ERTEGUN Tribute concert at London's 02 Arena was shared over the internet via mp3.  Quickly, the entire offering was apparently reduced to just 4 tracks in mp3 (lossy) form.  You can still find them in several locations as I type but if you're just curious to hear these magnificent samples, just visit YouTube and conduct your search.  The featured tracks are:  Good Times, Bad Times, For Your Life, Since I've Been Loving You and Rock And Roll.  It will cost you over a dollar a minute for the 22-minute fragment on the new Empress Valley title "The Final Shepperton Rehearsals", and since they weren't resourceful enough to locate the entire tape and its' seeder, it is certainly sourced from mp3...you know the entire tape direct from the source is forthcoming so hang tight and enjoy what is still being offered for free on the net...In other ZEPPELIN release news, Scorpio UK has issued "Zeppelin Express" 4CD with the excellent concert audience tape from Earl's Court on May 23rd, 1975...this almost looks like it's a copy of the old Jelly Roll title but that's just me being jaded ;)...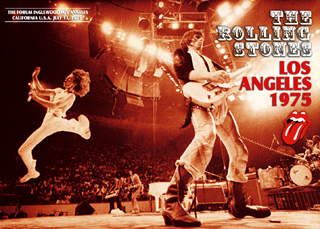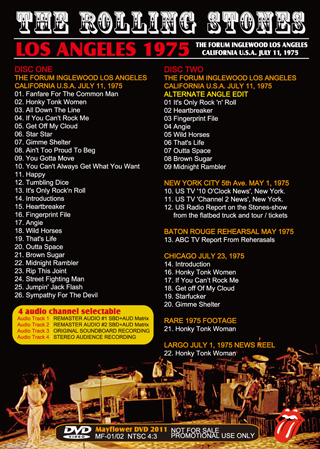 ...A new DVD label has emerged onto the scene, Mayflower, and they have pressed a couple of new ROLLING STONES DVD's that should please STONES collectors...The 2DVD "Los Angeles 1975" looks to be the fan-made production that was first shared last Spring via Bit Torrent over the internet and had many raving about the wonderful syncing and source tapes - both audio and video - featuring four audio tracks to choose from...and the bonus material is icing on the cake...could this really be 'the one' to get and finally enjoy?  Here's the tracklisting:
DISC ONE
THE FORUM INGLEWOOD LOS ANGELES CALIFORNIA U.S.A. JULY 11 and 1975
01. Fanfare For The Common Man
02. Honky Tonk Women
03. All Down The Line
04. If You Can't Rock Me
05. Get OFF Of My Cloud
06. Star Star
07. Gimme Shelter
08. Ain't Too Proud To Beg
09. You Gotta Move
10. You Can't Always Get What You Want
11. Happy
12. Tumbling Dice
13. It's Only Rock'n Roll
14. Introductions
15. Heartbreaker
16. Fingerprint File
17. Angie
18. Wild Horses
19. That's Life
20. Outta Space
21. Brown Sugar
22. Midnight Rambler
23. Rip This Joint
24. Street Fighting Man
25. Jumpin' Jack Flash
26. Sympathy For The Devil
DISC TWO
THE FORUM INGLEWOOD LOS ANGELES CALIFORNIA U.S.A. JULY 11 and 1975
ALTERNATE ANGLE EDIT
01 It's Only Rock 'n' Roll
02 Heartbreaker
03 Fingerprint File
04 Angie
05 Wild Horses
06 That's Life
07 Outta Space
08 Brown Sugar
09 Midnight Rambler
NEW YORK CITY 5th Ave. MAY 1 and 1975
10. US TV '10 O'Clock News' and New York.
11. US TV 'Channel 2 News' and New York.
12. US Radio Report ON the Stones-show
BATON ROUGE REHEARSAL MAY 1975
13. ABC TV Report From Reherasals
CHICAGO JULY 23 and 1975
14. Introduction
16. Honky Tonk Women
17. If You Can't Rock Me
18. Get OFF Of My Cloud
19. Starfucker
20. Gimme Shelter
RARE 1975 FOOTAGE
21. Honky Tonk Women
LARGO JULY 1 and 1975 NEWS REEL
22. Honky Tonk Women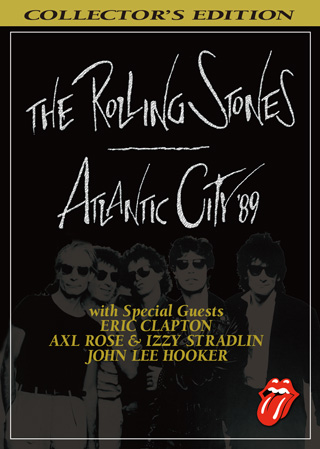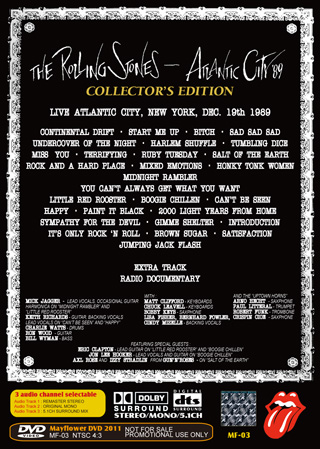 ...THE ROLLING STONES  "Atlantic City '89 "Collector's Edition" is the other Mayflower Label DVD release and while it's sparse on extras, it's great to have this on silver disc.  Let's hope the transfer was executed thoughtfully, here's the tracklisting:
CONTINENTAL DRIFT
START ME UP
BITCH
SAD SAD SAD
UNDERCOVER OF THE NIGHT
HARLEM SHUFFLE
TUMBLING DICE
MISS YOU
TERRIFYING
RUBY TUESDAY
SALT OF THE EARTH
ROCK AND A HARD PLACE
MIXED EMOTIONS
HONKY TONK WOMEN
MIDNIGHT RAMBLER
YOU CAN'T ALWAYS GET WHAT YOU WANT
LITTLE RED ROOSTER
BOOGIE CHILLEN
CAN'T BE SEEN
HAPPY
PAINT IT BLACK
2000 LIGHT YEARS FROM HOME
SYMPATHY FOR THE DEVIL
GIMME SHELTER
IT'S ONLY ROCK 'N ROLL
BROWN SUGAR
SATISFACTION
JUMPING JACK FLASH
EXTRA TRACK
RADIO DOCUMENTARY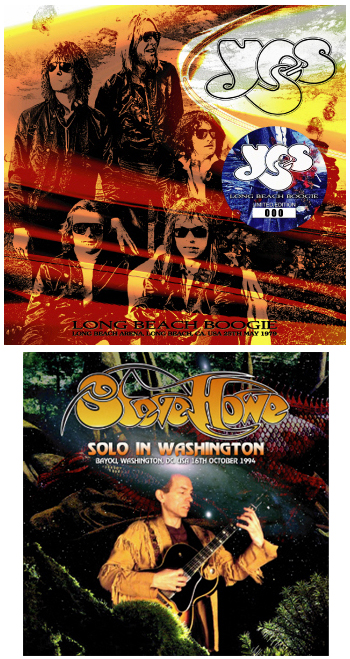 ...Finally this week, Virtuoso has issued the YES title, "Long Beach Boogie" 2CD featuring a superb audience tape from Long Beach Arena on May 25, 1979...initial pressings come with the bonus STEVE HOWE CDR "Solo In Washington" with another nice audience capture from the Bayou in Washington D.C. on October 16, 1994...Thanks for stopping in to catch up and have a great week!
Svengi, August 9, 2011