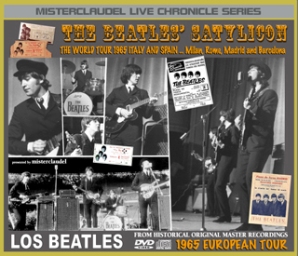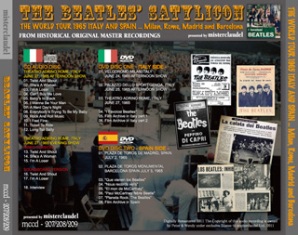 ...The latest audio/video installment in THE BEATLES archive from Misterclaudel kicks things off this week...titled, "Satylicon", the single CD/double DVD set features broadcast/soundboard sources of their Italy '65 performances and leaves no doubt that it's another impressive production...here's the tracklisting:
CD AUDIO DISC
THEATRO ADRINO ROME, ITALY JUNE 27, 1965 AFTERNOON SHOW
01. Twist And Shout
02. She's A Woman
03. I'm A Loser
04. Can't Buy Me Love
05. Baby's In Black
06. I Wanna Be Your Man
07. A Hard Day's Night
08. Everybody's Trying To Be My Baby
09. Rock And Roll Music
10. I Feel Fine
11. Ticket To Ride
12. Long Tall Sally
THEATRO ADRINO ROME, ITALY JUNE 27, 1965 EVENING SHOW
AIRED VERSION
13. Twist And Shout
14. She's A Woman
15. I'm A Loser
SOUNDBOARD VERSION
16. Twist And Shout
17. I'm A Loser
18. Interview
DVD DISC ONE "ITALY SIDE"
01. VELODROMO MILAN ITALY June 24, 1965 Afternoon Show
02. PALAZZO DELLO SPORT GENOA ITALY June 25, 1965 Afternoon Show
03. THEATRO ADRINO ROME ITALY June 27, 1965
04. "I Favolosi Beatles"
05. Film Archives in Italy Part 1
06. Film Archives in Italy Part 2
DVD DISC TWO "SPAIN SIDE"
01. PLAZA DE TOROS DE MADRID SPAIN July 2, 1965
02. PLAZA DE TROS MONUMENTAL BARCELONA SPAIN July 3, 1965
03. Que Vienen Los Beatles
04. Nous Records Vells
05. El Mon De McCartney
06. Paul McCartney Febre Beatle
07. Planeta Rock The Beatles
08. Film Archive in Spain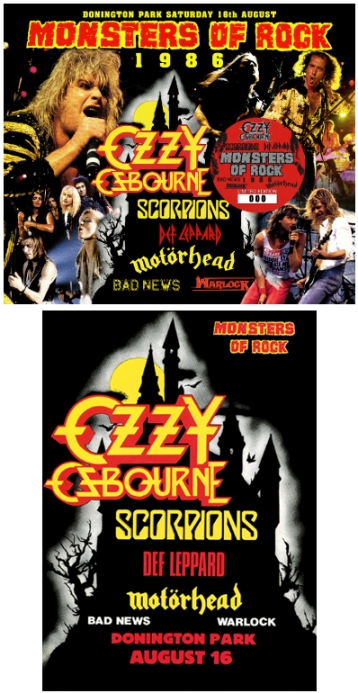 ...Langley Deluxe has had a surge in production since late June, this week they introduce "Monsters Of Rock 1986" 6CD set that features: OZZY OSBOURNE, SCORPIONS, DEF LEPPARD, MOTORHEAD, BAD NEWS and WARLOCK at the famed festival on August 16, 1986 in Donnington Park, England...the set utilizes superb audience tapes of the six bands and it comes with a replica program, and the first 50 sets come with the bonus OZZY OSBOURNE CDR, "Donnington1986 Pre-FM Master" containing a stereo soundboard tape of OZZY's set...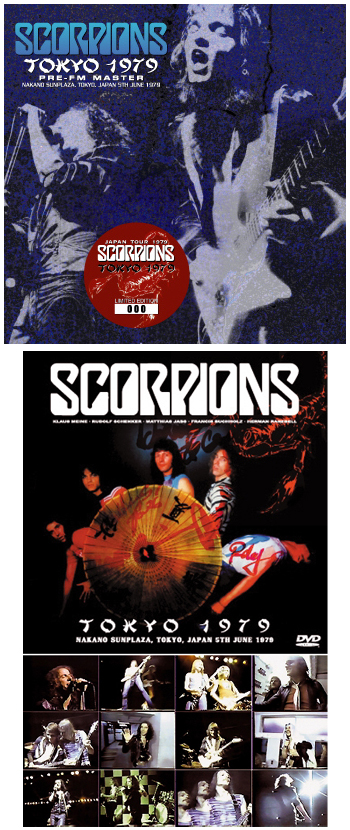 ...New from the Shades Label comes SCORPIONS "Tokyo 1979 Pre-FM Master" 1CD plus bonus DVD-R features a stereo sounboard of their June 5, 1979 show at Nakano Sun Plaza in Tokyo and with it a bonus 36 minute proshot compilation DVD-R with 6 live performances from the above concert along with 2 videos for 'Make It Real' and 'Don't Make No Promises'...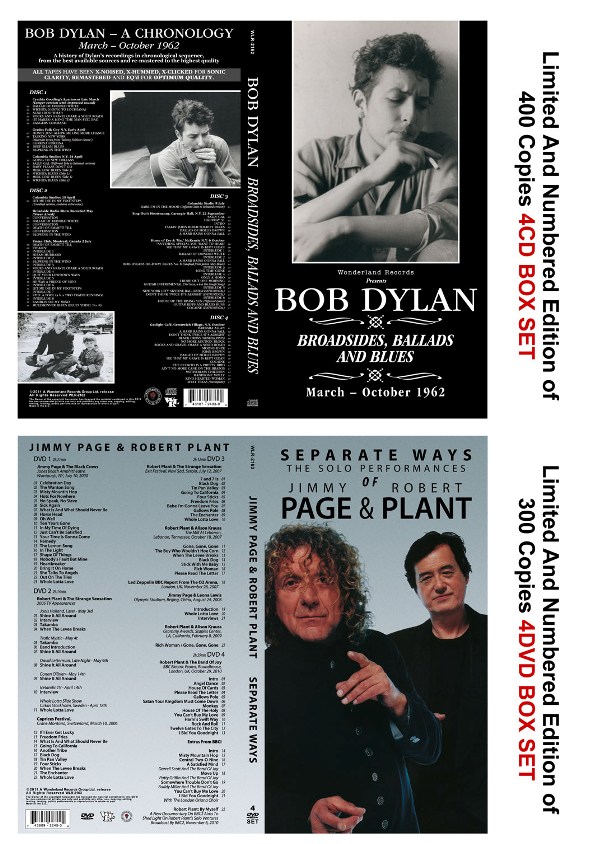 ...Several nice new box sets from Wonderland Records to showcase this week...above, the first of 2 BOB DYLAN boxes "Broadsides, Ballads and Blues" 4CD set chronologically documents all those wonderful tapes from March through October 1962..PAGE & PLANT "Separate Ways...the solo performances of..."  4DVD set compiles the best of solo proshot/broadcast videos including JIMMY PAGE & THE BLACK CROWES from Jones Beach Amphitheater in July of 2000, ROBERT PLANT & STRANGE SENSATION and BAND OF JOY live chapters as well...
...below, ELVIS "I Did It My Way" 4CD/DVD box chronicles the last year of live 1977 touring tapes that include complete shows from Madison, Wisconsin and Indianapolis along with slew of other fragments and rarities...the second of the BOB DYLAN offerings is 'The Final Box" 14CD set that neatly presents all of his final radio shows from February-April 2009...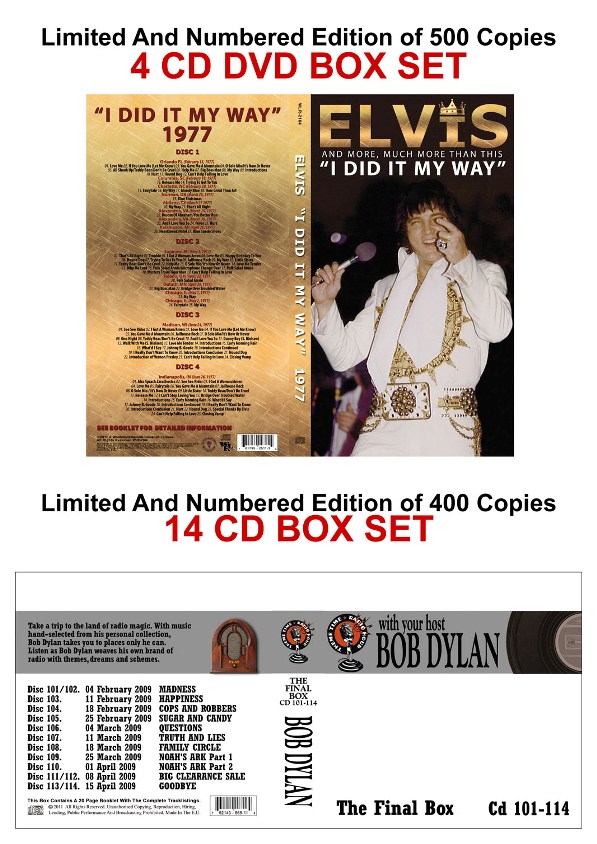 ...And that's the wrap for this week, but not the Summer!...as usual, it blew by again this year.  Could there be a few surprises before the air turns cooler?  Stay tuned, drop by...thanks for catching up and have a great week.
Svengi, August 23, 2011