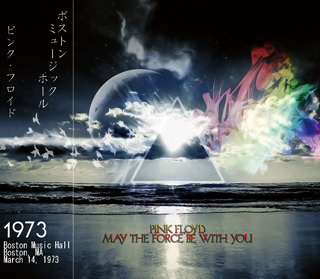 ..."May The Force Be With You" 2CD is a January PINK FLOYD release on the Shakuntala Label and features a great recording from the Boston Here's the tracklisting:
DISC ONE
01. Introduction
02. Careful With That Axe, Eugene
03. Obscured By Clouds
04. When You're In
05. Set The Controls For The Heart Of The Sun
06. Echoes

DISC TWO
01. Speak To Me
02. Breathe
03. On The Run
04. Time
05. Breathe (reprise)
06. The Great Gig In The Sky
07. Money
08. Us And Them
09. Any Colour You Like
10. Brain Damage
11. Eclipse
12. One Of These Days

...Also arriving in channels shortly is a non-label BLACK SABBATH production that presents the best of the best recordings of the band at their peak - the 1975 Asbury Park, Convention Hall performance on August 5th...this 1CD/1CDR set presents what is described as the 'best ever' version via stereo sounboard tape on the silver disc "Live Longest...Die At Last", the Digital FM broadcast version on the bonus CDR...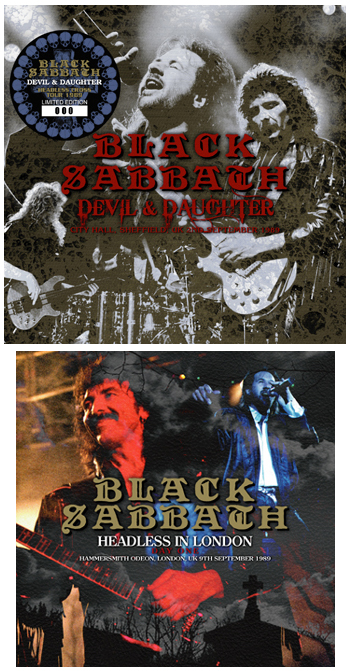 ...More BLACK SABBATH is available from Langley Deluxe and "Devil & Daughter" 2CD/2CDR piggyback release...the set features a superb audience tape from the Sheffield City Hall, UK on September 2, 1989, the bonus CDRs contain their September 9, 1989 show at the Hammersmith Odeon, London...


...A splash of DAVID BOWIE titles to highlight this week too...above is "Tokyo 1978: Special Edition" DVD from Masterport DVD Masters Label and it delivers possibly the best source and transfer of the NHK Hall, Tokyo proshot video from December 12, 1978 along with the Saturday Night Live 1979 appearance from NBC-TV, early sets come with a bonus DVD-R "Interview In Tokyo" clip that runs a whopping 11 minutes...I mean, why not just include it in the main release as a bonus?...more BOWIE below...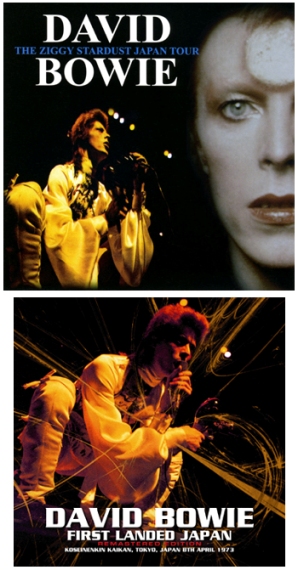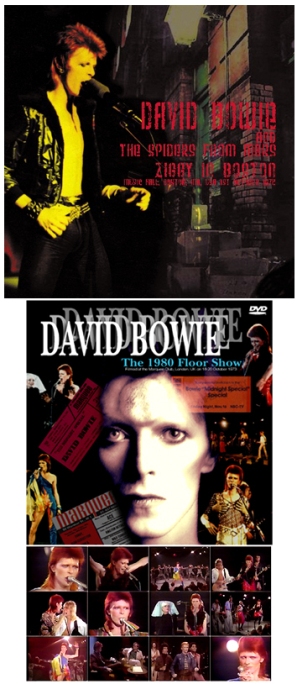 ...from Masterport, DAVID BOWIE "Ziggy Stardust Japan Tour" 1CD presents an April 10, 1973 audience recording from Shinjuku Koseinenkin Kaikan in Tokyo, with the bonus CDR set "First Landed Japan: Remastered Edition" that contains an audience tape from Koseinenkin Kaikan, Tokyo on April 8, 1973...from Wardour it's "Ziggy In Boston" 1CD presenting a great audience tape from Boston Music Hall on October 1, 1972, and there's a bonus DVD-R of the "1980 Floor Show" TV special in the early sets...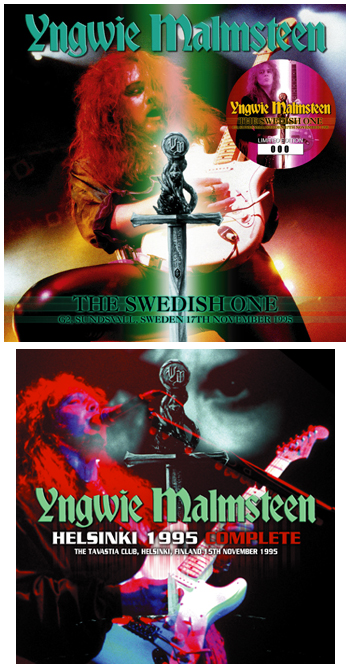 ...On the Shades Label is the YNGWIE MALMSTEEN title, "The Swedish One" 1CD featuring a November 17, 1995 stereo soundboard from G2 in Sundsvall, Sweden with the piggyback 2CDR "Helsinki 1995 Complete"...Look for the new BEATLES "In Japan 1966" CD/DVD set on Innergroove, here's the tracklisting for that package:

DISC-1; Factory Pressed CD
[ LIVE AT BUDOKAN HALL, Evening Show - JUNE 30 1966 ]
Rock And Roll Music / She's A Woman / If I Needed Someone / Day Tripper /
Baby's In Black / I Feel Fine / Yesterday / I Wanna Be Your Man /
Nowhere Man / Paperback Writer / I'm Down /
[ LIVE AT BUDOKAN HALL, Afternoon Show - JULY 1st 1966 ]
Rock And Roll Music / She's A Woman / If I Needed Someone / Day Tripper /
Baby's In Black / I Feel Fine / Yesterday / I Wanna Be Your Man /
Nowhere Man / Paperback Writer / I'm Down /
------------------------
 
DISC-2; DVDR-1 63mins
[ DOCUMENT & FOOTAGE with innergroove Exclusive Edit ]
◆JUNE 28 1966◆
Opening Montage(sound;Paperback Writer)/ Haneda Arrivals / Tokyo Highway /
◆JUNE 29 1966◆
Outside Hotel Footage(sound;Day Tripper) / Interview at 10th floor /
Press Conference at Tokyo Hilton Hotel Pink Pearl Room (独占翻訳字幕入) /
------------------------
 
DISC-3; DVDR-2 72mins
[ LIVE & FOOTAGE with innergroove Exclusive Edit ]
◆JUNE 30 1966◆
Outside of Budokan Footage(sound;Nowhere Man)日本語字幕入 /
[ LIVE AT BUDOKAN HALL, Evening Show - JUNE 30 1966 ]
Rock And Roll Music / She's A Woman / If I Needed Someone / Day Tripper /
Baby's In Black / I Feel Fine / Yesterday / I Wanna Be Your Man /
Nowhere Man / Paperback Writer / I'm Down /
◆JULY 01 1966◆
Document July 1st - John & Paul's Breakout(sound;If I Needed Someone) (日本語字幕入)/
[ LIVE AT BUDOKAN HALL, Afternoon Show - JULY 1st 1966 ]
Rock And Roll Music / She's A Woman / If I Needed Someone / Day Tripper /
Baby's In Black / I Feel Fine / Yesterday / I Wanna Be Your Man /
Nowhere Man / Paperback Writer / I'm Down /
Beatle Costume Report(日本語字幕入)/
◆JULY 02 1966◆
8mm Shooting by Tony Barrow /
◆JULY 03 1966◆
Leaving Japan(日本語字幕入)/
 
■■DISC-4; DVDR-3 BONUS DISC■■ 86mins

Programme Opening / CM advt #1 / Rock And Roll Music (6/30/1966)/
Twist And Shout (SHEA 1965)/ Ticket To Ride (SHEA 1965)/ CM advt #2 /
Can't Buy Me Love (SHEA 1965)/ I'm Down (SHEA 1965)/ Japan Tour Preview /
Document In JAPAN / CM advt #3 / Opening M.C./ Guest performances /
[ LIVE AT BUDOKAN HALL, Evening Show - JUNE 30 1966 ]
Rock And Roll Music / She's A Woman / If I Needed Someone /
Day Tripper / CM advt #4 / Baby's In Black / I Feel Fine /
Yesterday / I Wanna Be Your Man / Nowhere Man / CM advt #5 /
Paperback Writer / I'm Down  / Eencore; Yesterday /
Programme Ending / CM advt #6 /
Bonus ;Guest Performances /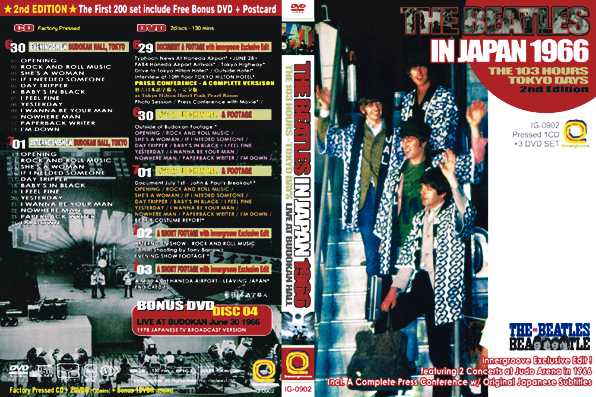 ...and that's the scoop for this week, thank you for stopping in!...Have a great week...

Svengi, January 24, 2012