...Kicking the program off this week is the latest from that bootleg production machine, Calm & Storm with THE MICHAEL SCHENKER GROUP "Live Into The Arena" 2CD set featuring another Miracle Man recording from the audience on August 12, 1981 at The Budokan, Tokyo...the set comes with the bonus CDR "FM Live Special: Budokan 1981" - a stereo soundboard version of the show, and an upgrade too - according to the producers...

...New on the Shades Label is WHITESNAKE "Sneaking Up On You" 2CD excellent audience tape from Nakano Sun Plaza, Tokyo on April 15, 1980 and it comes with a replica ticket from the event...

...One non-label production to feature tonight, BLACK SABBATH (featuring TONY IOMMI) "Unsung Memories: Seventh Star Instrumental Demosm1985" 1CD, all material in stereo soundboard quality, here are the details around this disc:
1. Seventh Star #1 2. Danger Zone 3. Turn To Stone 4. No Stranger To Love 5. Seventh Star #2
6. Heart Like A Wheel #1 7. In For The Kill 8. Heart Like A Wheel #2 9. Angry Heart
10. In Memory
TONY IOMMI
"Jam Session 1985"
11. Unreleased Jam #1 (With Jeff Fenholt) 12. Unreleased Jam #2
13. Unreleased Jam #3 (With Jeff Fenholt) 14. Unreleased Jam #4
15. Unreleased Jam #5 16. Unreleased Jam #6 17. The Thrill Is Gone (With Lita Ford)
18. Unreleased Jam #7
Tony Iommi - Guitar Dave Spitz - Bass Eric Singer - Drums Geoff Nicholls - Keyboards
...In other boot news, THE ROLLING STONES "L.A. Nights" 2DVD/2CD set on the Goldplate Ltd. label has hit the channels, this appears to be a copy of what was delivered by Red Tongue Records a few months ago in their vinyl/DVD/CD box for "L.A. Friday"...and the DVD material is as good as we've gotten...we'll have to await confirmation on whether it's a copy and comparible...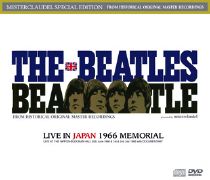 ...Misterclaudel will release THE BEATLES "Live In Japan Memorial 1966 Special Edition" set, here's the breakdown of this very nice looking 2DVD/2CD set:
DISC ONE
LIVE AT THE BUDOKAN HALL TOKYO JAPAN June 30, 1966
01. Introduction
02. Rock And Roll Music
03. She's A Woman
04. If I Needed Someone
05. Day Tripper
06. Baby's In Black
07. I Feel Fine
08. Yesterday
09. I Wanna Be Your Man
10. Nowhere Man
11. Paperback Writer
12. I'm Down

LIVE AT THE BUDOKAN HALL TOKYO JAPAN July 1, 1966
AFTERNOON SHOW
13. Introduction
14. Rock And Roll Music
15. She's A Woman
16. If I Needed Someone
17. Day Tripper
18. Baby's In Black
19. I Feel Fine
20. Yesterday
21. I Wanna Be Your Man
22. Nowhere Man
23. Paperback Writer
24. I'm Down

EVENING SHOW
25. Day Tripper

TV PROGRAM June 29, 1966
26. "Star One Thousand And One Nights"


DISC TWO
LIVE AT THE BUDOKAN HALL July 1, 1966 AFTERNOON SHOW
OFF-LINE RECORDING from the TV LIVE-ON-AIR
01. Introduction
02. Rock And Roll Music
03. She's A Woman
04. If I Needed Someone
05. Day Tripper
06. Baby's In Black
07. I Feel Fine
08. Yesterday
09. I Wanna Be Your Man
10. Nowhere Man
11. Paperback Writer
12. I'm Down

PINK PEARL BALL HILTON TOKYO June 29, 1966
13. Introductions
14. Photo Session
15. Press Conference


DVD DISC ONE "CONCERTS"
LIVE AT THE BUDOKAN HALL TOKYO JAPAN June 30, 1966
01. Introduction
02. Rock And Roll Music
03. She's A Woman
04. If I Needed Someone
05. Day Tripper
06. Baby's In Black
07. I Feel Fine
08. Yesterday
09. I Wanna Be Your Man
10. Nowhere Man
11. Paperback Writer
12. I'm Down

LIVE AT THE BUDOKAN HALL TOKYO JAPAN July 1, 1966 AFTERNOON SHOW
01. Introduction
02. Rock And Roll Music
03. She's A Woman
04. If I Needed Someone
05. Day Tripper
06. Baby's In Black
07. I Feel Fine
08. Yesterday
09. I Wanna Be Your Man
10. Nowhere Man
11. Paperback Writer
12. I'm Down


DVD DISC TWO "ALTERNATIVE"
LIVE AT THE BUDOKAN HALL TOKYO JAPAN June 30, 1966
01. Alternate Source #1 - Paperback Writer
02. Alternate Source #2 - Yesterday
03. Alternate Source #3 - Nowhere Man - I'm Down

LIVE AT THE BUDOKAN HALL TOKYO JAPAN June 30 & July 1, 1966
01. Color 8mm raw 1
02. Color 8mm raw 2
03. Color 8mm audio synch

FULL CONCERT 8mm KINECORDING FILM ANAMOPHIC
LIVE AT THE BUDOKAN HALL TOKYO JAPAN July 1, 1966
01. Introduction
02. Rock And Roll Music
03. She's A Woman
04. If I Needed Someone
05. Day Tripper
06. Baby's In Black
07. I Feel Fine
08. Yesterday
09. I Wanna Be Your Man
10. Nowhere Man
11. Paperback Writer
12. I'm Down

ALTERNATE SOURCES
LIVE AT BUDOKAN HALL TOKYO JAPAN July 1, 1966
01. Alternate Source #1 - Rock And Roll Music - Yesterday
02. Alternate Source #2 - Paperback Writer
03. Alternate Source #3 - Nowhere Man - Rock And Roll Music
04. Alternate Source #4 - Paperback Writer
05. Alternate Source #5 - Paperback Writer
06. Alternate Source #6 - Rock And Roll Music - Yesterday - Paperback Writer
07. Alternate Source #7 - Yesterday - Nowhere Man - If I Needed Someone

LIVE AT THE BUDOKAN HALL TOKYO JAPAN July 2, 1966
01. Color 8mm

JAPAN TOUR DOCUMENT FROM ARRIVAL to DEPARTURE
01. Press Conference
02. Documentary #1
03. Documentary #2
04. Documentary #3


...And that's the wrap for this mid-July edition of the news...cheers to JON LORD again, I'm off to crank up WHO DO YOU THINK WE ARE?, the neighbors will get over it eventually!...have a great week!

Svengi, July 17, 2012