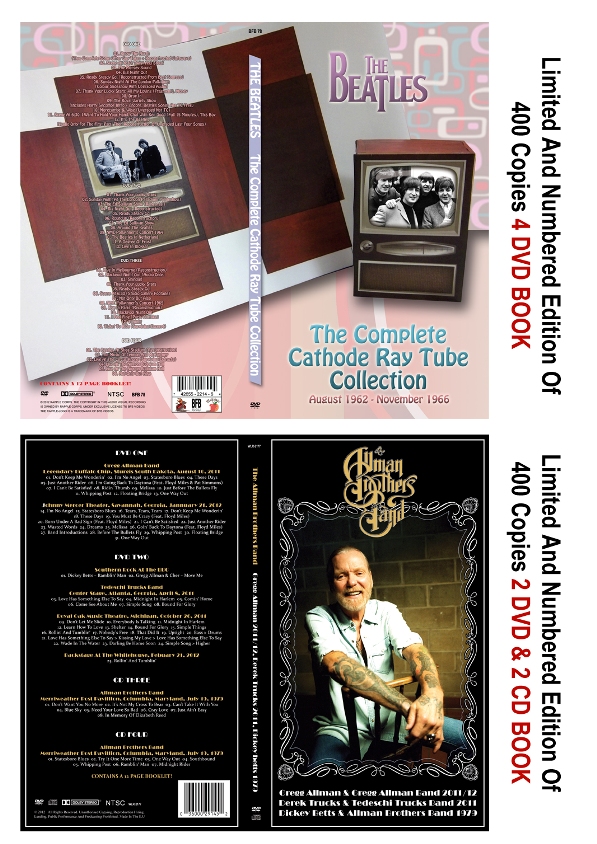 ...Wonderland Records will release a couple of new box sets to help us turn into the final stretch of this Summer 2012, shown above:  THE BEATLES "The Complete Cathode Ray Tube Collection" 4DVD compiles TV appearances from August 1962 through October 1966...THE ALLMAN BROTHERS BAND 2DVD/2CD box assembles different iterations of the ABB and solo ventures...below is THE ROLLING STONES "Live Over The World 1995" 14CD set packages up all the great soundboards from South America, South Africa and Japan during the latter legs of the Voodoo Lounge Tour 1995...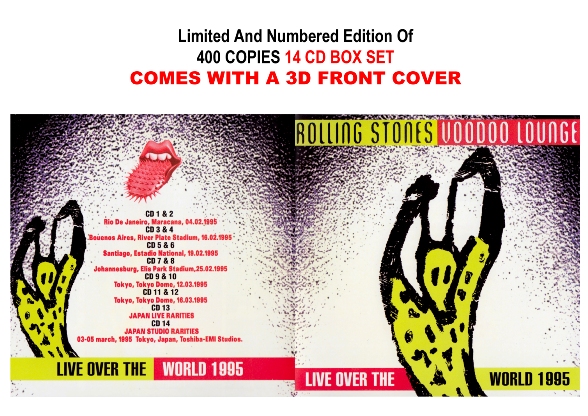 ...More STONES!...served up on non-label silver are two classic vinyl bootleg replicas...."Sad Songs Is All I Know" 2CD delivers an excellent audience tape of their San Francisco concert at The Cow Palace on July 15, 1975..."Tight Dresses & Tampax" 2CD also presents a nice audience recording from Soldier Field, Chicago on July 8, 1978...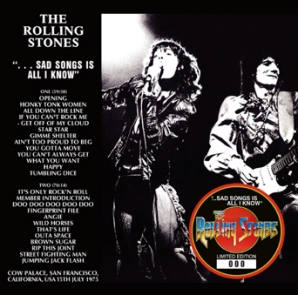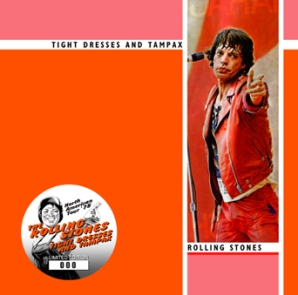 ...New from Picadilly Circus comes BRUCE SPRINGSTEEN & THE E STREET BAND???....that's right, "Hard Rock Calling 2012" 3CD does have a BEATLES tie-in to keep the labels' consistency and dedication to all things Fab-related...Here's the tracklisting for this Saturday, July 14th performance:

DISC ONE
01. introductions
02. Thunder Road
03. Badlands
04. We Take Care Of Our Own
05. Wrecking Ball
06. Death To My Hometown (with Tom Morello)
07. My City Of Ruins
08. Spirit In The Night
09. The Promised Land (with John Fogerty)

DISC TWO
01. Take 'Em As They Come
02. Jack Of All Trades (with Tom Morello)
03. Empty Sky
04. Because The Night
05. Johnny 99
06. Darlington County
07. Working On The Highway
08. ShackledAand Drawn
09. Waitin' On A Sunny Day
10. Raise Your Hand
11. The River

DISC THREE
01. The Ghost Of Tom Joad (with Tom Morello)
02. The Rising (with Tom Morello)
03. Land of Hope And Dreams (with Tom Morello)
04. We Are Alive
05. Born In The U.S.A.
06. Born To Run
07. Glory Days
08. Dancing In The Dark
09. I Saw Her Standing There (with Paul McCartney)
10. Twist and Shout (with Paul McCartney)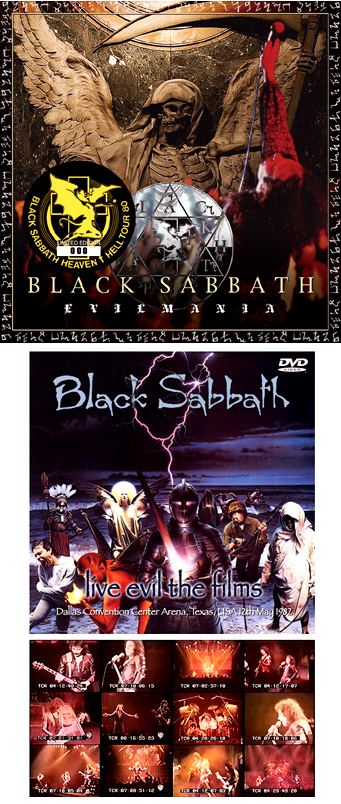 ...Apparently having no associating label is the theme for this week....two more here - BLACK SABBATH "Evilmania" 1CD is evidently a 'huge upgrade' of an FM broadcast source from their November 18, 1980 concert at Nakano Sun Plaza in Tokyo, early sets arrive with the bonus DVD-R "Live Evil: The Films", a May 12, 1982 pro-shot concert from the Dallas Convention Center...picured below is WHITESNAKE "Linehunter" 2CD soundboard - also from the Nakano Sun Plaza venue in Tokyo but this one recorded on April 14, 1980 and the initial sets include the DVD-R "BBC Encore Hour" and their August 24, 1980 Reading Festival set...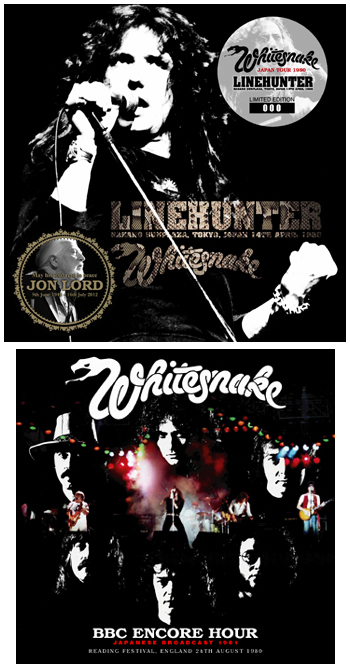 ...And that's the wrap!  Have a great week and thanks for stopping back for this day-delayed posting, catch ya back here next week...

Svengi, July 25, 2012