Updates/Additions...Friday, November 30th...some more box sets to throw into the mix and share this week: THE ALLMAN BROTHERS BAND family of recordings..and ELVIS: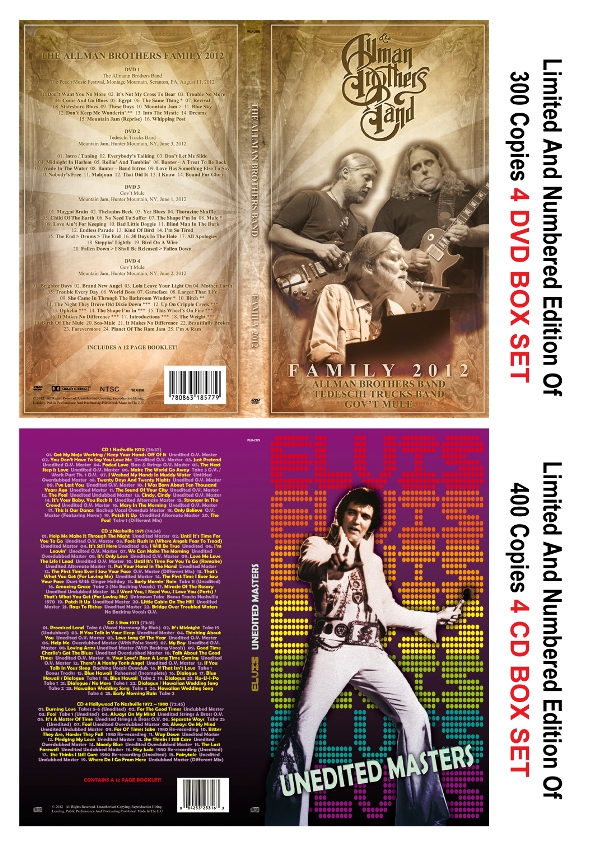 PLUS...THE ROLLING STONES and GEORGE HARRISON boxes: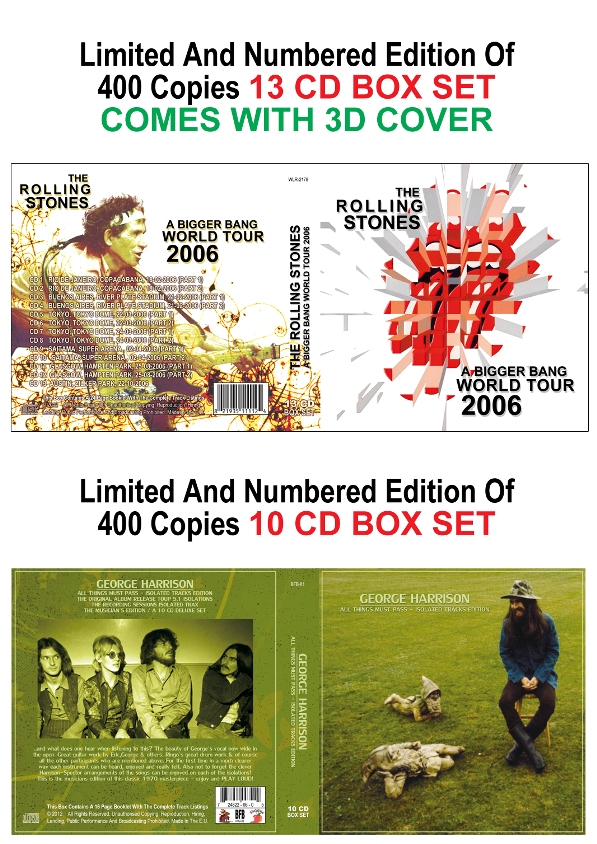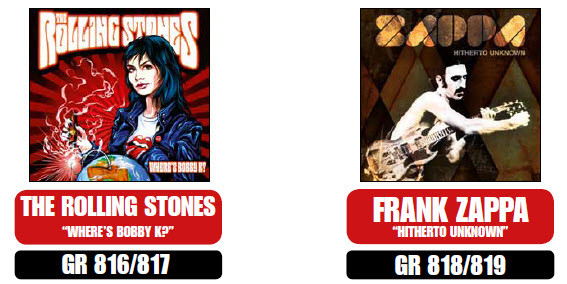 ...The Godfather Records press is cranked up high for the next batch of titles to hit December 12th...above are two titles that feature recordings making their first appearance on silver disc.  THE ROLLING STONES "Where's Bobby K?" 2CD presents a great audience tape of their concert in Sydney, Australia on April 11, 2006 at Telstra Stadium - the set comes with a miniature poster and 8-page booklet...FRANK ZAPPA "Hitherto Unknown" 2CD leverages a newly discovered soundboard tape from the October 13, 1978 show at The Capital Theatre in Passaic, New Jersey - and also comes with a 4-page booklet...



...More Godfather goodies...THE WHO "The Dutch Seduction" 2CD presents a pre-FM soundboard source of the milestone performance at The Concertbeow in Amsterdam on September 29, 1969 and comes with a 4-page color booklet...FREE "Songs Of Yesterday" 1CD contains two great soundboard performances from Stockholm on December 12, 1970 and the Boston Tea Party on July 24, 1969...PINK FLOYD "Another Lapse In Japan" 2CD is an audience recording of their March 2, 1988 show at Nippon Budokan...NEIL YOUNG "Wherever The Party Goes" 2CD contains the complete Austin City Limits soundboard/broadcast from October 13th, 2012, plus bonus tracks from Pittsburgh and Chicago where he unveiled the previously unreleased new tune "Singer Without A Song"...THE CURE "Fuck Rock 'N Roll" 1CD soundboard documents their Rock Werchter Festival in 1981...and KISS "Buenos Aires Freak Show" 2CD is a soundboard set from River Plate Stadium in Argentina on November 7, 2012 and comes with a miniature poster...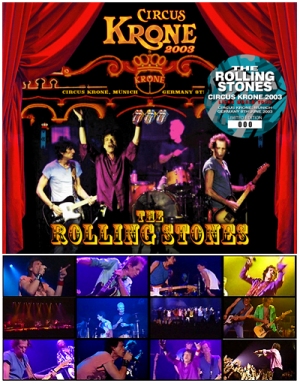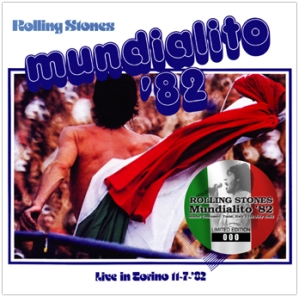 ...A couple of new, non-label ROLLING STONES titles on the way above...


...Two new releases coming from Calm & Storm....AEROSMITH "Rocks Budokan" 2CD excellent audience recording from the January 31, 1977 Budokan master tape and includes a replica japanese flyer for the event - plus a bonus CDR set with early copies...DEEP PURPLE "The Magnificent Five" 2CD contains an excellent audience tape from the May 16, 1985 show at Budokan, plus bonus 2CDR set with the show from May 14th...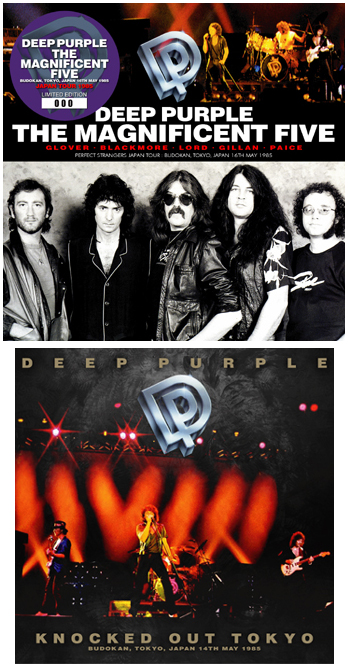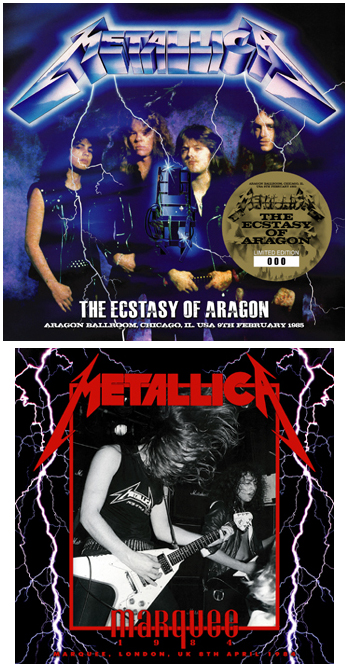 ...New METALLICA on the Zodiac Label above, "The Ecstasy Of Aragon" 1CD contains a February 9, 1985 audience tape from Chicago, and comes with a bonus CDR of their Marquee, London show in 1981

...Look for this complete GEORGE HARRISON 7CD package from Misterclaudel!..."Rock Legend" tracklisting is:
OSAKA CASTLE HALL DECEMBER 10, 1991
DISC ONE
01. I Want To Tell You
02. Old Brown Shoe
03. Taxman
04. Give Me Love
05. If I Needed Someone
06. Something
07. What Is Life
08. Dark Horse
09. Piggies
10. Pretending
11. Old Love
12. Badge
13. Wonderful Tonight

DISC TWO
01. Got My Mind Set On You
02. Cloud Nine
03. Here Comes The Sun
04. My Sweet Lord
05. All Those Years Ago
06. Cheer Down
07. Devil's Radio
08. Isn't It A Pity
09. While My Guitar Gently Weeps
10. Roll Over Beethoven

OSAKA CASTLE HALL DECEMBER 11, 1991
DISC THREE
01. I Want To Tell You
02. Old Brown Shoe
03. Taxman
04. Give Me Love
05. If I Needed Someone
06. Something
07. What Is Life
08. Dark Horse
09. Piggies
10. Pretending
11. Old Love
12. Badge
13. Wonderful Tonight

DISC FOUR
01. Got My Mind Set On You
02. Cloud Nine
03. Here Comes The Sun
04. My Sweet Lord
05. All Those Years Ago
06. Cheer Down
07. Devil's Radio
08. Isn't It A Pity
09. While My Guitar Gently Weeps
10. Roll Over Beethoven

OSAKA CASTLE HALL DECEMBER 12, 1991
DISC FIVE
01. I Want To Tell You
02. Old Brown Shoe
03. Taxman
04. Give Me Love
05. If I Needed Someone
06. Something
07. What Is Life
08. Dark Horse
09. Piggies
10. Pretending
11. Old Love
12. Badge
13. Wonderful Tonight

DISC SIX
01. Got My Mind Set On You
02. Cloud Nine
03. Here Comes The Sun
04. My Sweet Lord
05. All Those Years Ago
06. Cheer Down
07. Devil's Radio
08. Isn't It A Pity
09. While My Guitar Gently Weeps
10. Roll Over Beethoven

DISC SEVEN
TOKYO DOME DECEMBER 15, 1991
SOUNDBOARD RECORDING
01. Taxman
02. Cloud Nine
03. Cheer Down
04. Davil's Radio

CAPITOL TOKYU HOTEL NOVEMBER 29, 1991
05. Press Conference

BRAY STUDIO WINDSOR U.K. NOVEMBER 24, 1991
06. Interview About Japan Tour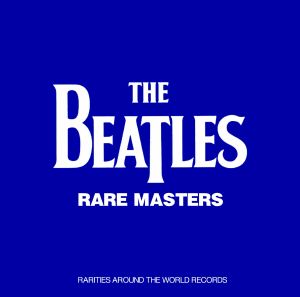 ...Finally tonight...THE BEATLES "Rare Masters" 2CD will arrive courtesy of the SGT Label...here's the breakdown of contents here:

CD ONE  - UK AND OTHER COUNTRY MASTERS -
01. Love Me Do - simulated stereo mix  02. From Me To You -
alternate stereo mix  03. She Loves You -  simulated stereo
mix 04. I Want To Hold Your Hand - alternate stereo mix  05. This Boy
- simulated stereo mix  06. All My Loving - hi-hat opening
07. A Hard Day's Night - UA 8 track extended version  08. And I
Love Her - extended stereo mix  09. I Should Have Known Better -
alternate stereo mix  10. I Feel Fine - alternate stereo mix
11. She's A Woman - stereo mix with count-in 12. Yesterday - alternate
stereo remix  13. Ticket To Ride - short stereo mix  14. We
Can Work It Out - alternate stereo mix  15. Day Tripper -
alternate stereo mix 16. Norwegian Wood (This Bird Has Flown) - alternate stereo remix  17. Girl - alternate stereo remix  18. I'm Only Sleeping -alternate stereo remix  19. Tomorrow Never Knows - matrix 1 mono mix  20. Strawberry Fields Forever - alternate stereo mix
21. Penny Lane - promotional mix with trumpet ending  22. I Am The
Warlus - alternate stereo remix  23. Hey Jude - short edit stereo
mix  24. The Ballad Of John And Yoko - mono mix  25. Across
The Universe - mono mix  26. Let It Be - mono mix  27. The
Beatles Movie Medley

CD TWO  - US CAPITOL MASTERS -
01. Twist And Shout - ferris bueller stereo mix  02. Misery -
stereo mix  03. There's A Place - stereo mix  04. Don't
Bother Me - canadian stereo mix  05. You Can't Do That - canadian
stereo mix  06. I'll Cry Instead - extended mix from
soundtrack  07. If I Fell - movie mix from soundtrack  08.
And I Love Her - movie mix from soundtrack  09. Can't Buy Me Love
- alternate mix from soundtrack  10. The Beatles Story
Medley  11. Komm, Gib Mir Deine Hand - stereo mix  12. Sie
Liebt Dich - stereo mix  13. You've Got To Hide Your Love Away -
alternate stereo mix  14. Think For Yourself - alternate stereo
mix  15. I'm Only Sleeping - mono mix  16. Dr. Robert - mono
mix 17. And Yor Bird Can Sing - stereo mix  18. I'm Only Sleeping -
stereo mix  19. Dr. Robert - stereo mix  20. Strawberry
Fields Forever - stereo mix  21. I Am The Warlus - single mono
mix  22. I Am The Warlus - stereo mix  23. Dear Prudence -
ampex stereo reel tape edited mix  24. Glass Onion - ampex stereo
reel tape edited mix  25. Don't Pass Me By - ampex stereo reel
tape edited mix 26. Why Don't We Do It In The Road - ampex stereo reel tape edited mix  27. Yer Blues - ampex stereo reel tape edited mix
28. Helter Skelter - ampex stereo reel tape edited mix  29.
Revolution #9 - ampex stereo reel tape edited mix

...And that's the wrap for this week!....Happy Holidays!...

Svengi, November 28, 2012