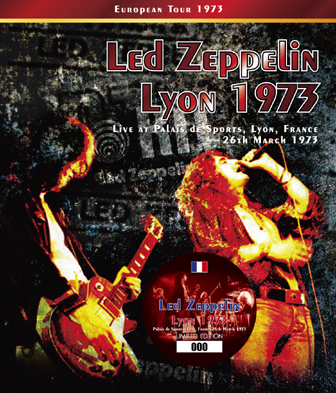 ...LED ZEPPELIN "Lyon 1973" 3CD is a new non-label release and documents the bands' concert at Palais de Sports in Lyon, France on the  26th of March 1973...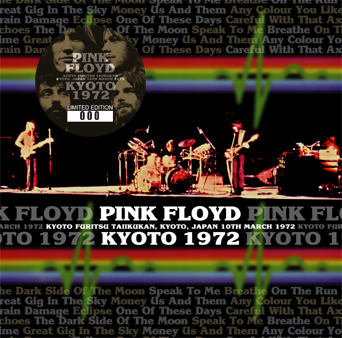 ...Pink Floyd "Kyoto 1972" 2CD from Sigma presents a very nice audience recording from Kyoto Furitsu Taiikukan, Kyoto, Japan on March 10, 1972...

...Here's a nifty package from Zion...FLEETWOOD MAC "Rehearsal Live 1975" 1CD is a stereo soundboard tape that was recorded on September 23, 1975 at Trod Nossel Studios in Wallingford, Connecticut direct from the Reel-to-Reel master...AND!...this comes with the bonus DVD-R, "Largo 1975"...AND!...the bonus CDR, "Las Vegas 1977" which is from a japanese broadcast tape of a performance at The Aladdin Theater in Las Vegas, Nevada on August 25, 1977 and broadcast on May 30, 1978...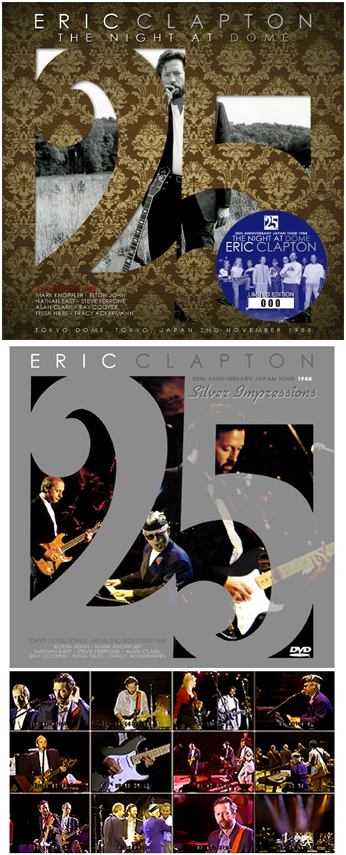 ...It boggles the mind, the sheer volume of ERIC CLAPTON releases we see each week, here's a few more...above from Tricone, "The Night At Dome" 2CD is a great audience capture of his November 2, 1988 concert at The Tokyo Dome and it comes with the bonus DVD-R, "Silver Impressions" which  is a proshot video from the same show...below, one of three releases announced this week from Beano, "In Frankfurt 2004" 2CD, an April 8, 2004 superb audience tape from Festhalle in Frankfurt, Germany and this one comes with the bonus CDR "A Man Of Privilege"...Then there's the third one, "Florida 2013" 2CD presenting his March 29, 2013 show at the Seminole Hard Rock Hotel & Casino in Hollywood, Florida...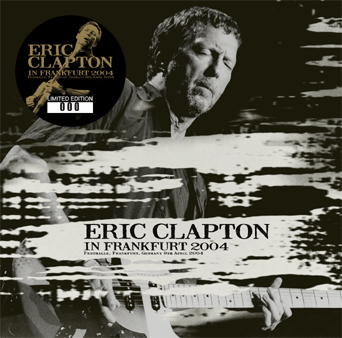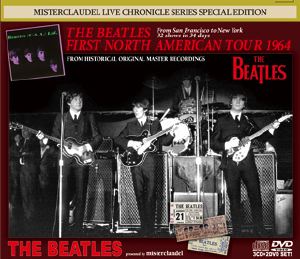 ...Next up from Misterclaudel is THE BEATLES "American Tour 1964" 3CD/2DVD labor of love, here's the tracklisting:


DISC ONE
 EMPIRE STADIUM VANCOUVER CANADA AUGUST 22, 1964
 ORIGINAL SOURCE
 01. Introduction
 02. Twist And Shout
 03. You Can't Do That
 04. All My Loving
 05. She Loves You
 06. Things We Said Today
 07. Roll Over Beethoven
 08. Can't Buy Me Love
 09. If I Fell
 10. Boys
 11. A Hard Day's Night
 12. Long Tall Sally
 
AUDIENCE SOURCE from RADIO REPORT
 13. Introduction
 14. Twist And Shout
 15. You Can't Do That
 16. All My Loving
 17. She Loves You
 18. Things We Said Today
 19. Roll Over Beethoven
 20. Can't Buy Me Love
 21. If I Fell
 22. Boys
 23. A Hard Day's Night
 24. Long Tall Sally
 25. Radio Report Outroduction
 
COW PALACE SAN FRANCISCO CA U.S.A. AUGUST 19, 1964
 SOURCE #1
 26. Twist And Shout
 27. She Loves You
 28. A Hard Day's Night
 
SOURCE #2
 29. Radio Annoucement
 30. Twist And Shout
 31. She Loves You
 32. A Hard Day's Night
 
SOURCE #3
 33. Introduction
 34. Twist And Shout
 35. She Loves You
 36. A Hard Day's Night
 
CONVENTION HALL LAS VEGAS NV AUGUST 20, 1964
 37. Twist And Shout
 
DISC TWO
 LOCATION & DATE UNKNOWN a.k.a. " WHISKEY FLAT "
 01. Introduction
 02. Twist And Shout
 03. You Can't Do That
 04. All My Loving
 05. She Loves You
 06. Things We Said Today
 07. Roll Over Beethoven
 08. Can't Buy Me Love
 09. If I Fell
 10. I Want To Hold Your Hand
 11. Boys
 12. A Hard Day's Night
 13. Long Tall Sally
 
CENTER COLISEUM SEATTLE WA U.S.A. AUGUST 21, 1964
 14. Introduction
 15. Twist And Shout
 16. You Can't Do That
 17. All My Loving
 18. She Loves You
 19. Things We Said Today
 20. Roll Over Beethoven
 21. Can't Buy Me Love
 22. If I Fell
 23. I Want To Hold Your Hand
 24. Boys
 25. A Hard Day's Night
 26. Long Tall Sally
 
INTERNATIONAL AMPHITEATRE CHICAGO IL U.S.A. SEPTEMBER 5, 1964
 27. Radio Report - You Can't Do That
 
OLYMPIA STADIUM DETROIT MI U.S.A. SEPTEMBER 6, 1964
 28. Radio Report
 29. Can't Buy Me Love
 
MAPLE LEAF GARDENS TORONTO CANADA SEPTEMBER 7, 1964
 30. Radio Program Introduction
 31. She Loves You
 32. Interviews
 33. All My Loving
 
GATOR BOWL JACKSONVILLE FL U.S.A. SEPTEMBER 11, 1964
 34. Radio Report
 
DISC THREE
 CITY PARK STADIUM NEW ORLEANS LA U.S.A. SEPTEMBER 16, 1964 MC only
 01. Radio Program Introduction
 02. Introduction
 03. Twist And Shout Studio Version
 04. You Can't Do That Studio Version
 05. All My Loving
 06. She Loves You Studio Version
 07. Things We Said Today
 08. Roll Over Beethoven Studio Version
 09. Can't Buy Me Love Studio Version
 10. If I Fell Studio Version
 11. Boys Studio Version
 12. A Hard Day's Night
 13. Long Tall Sally Studio Version
 14. Radio Program Outroduction
 
CONVENTION HALL ATLANTIC CITY NJ U.S.A. AUGUST 30, 1964
 from the vinyl " IT'S FAB, LUV !!! " voice over by THE LIVERPOOL FOUR
 15. Twist And Shout
 16. You Can't Do That
 17. All My Loving
 18. She Loves You
 19. Things We Said Today
 20. Roll Over Beethoven
 21. Can't Buy Me Love
 22. If I Fell
 23. I Want To Hold Your Hand
 24. Boys
 25. A Hard Day's Night
 26. Long Tall Sally
 
DVD DISC ONE "Concerts"
 AUGUST 19, COW PALACE SAN FRANCISCO
 B&W 16mm film #1
 B&W 16mm film #2
 
AUGUST 20, CONVENTION HALL LAS VEGAS
 B&W 16mm film with original concert audio
 
AUGUST 21, COLISEUM SEATTLE
 B&W 16mm film with original concert audio
 
AUGUST 22, EMPIRE STADIUM VANCOUVER
 B&W 16mm film with original concert audio
 
AUGUST 26, RED ROCKS AMPHITHEATRE DENVER
 B&W 16mm film
 
AUGUST 27, THE GARDENS CINCINATI
 B&W 16mm film #1
 B&W 16mm film #2
 
SEPTEMBER 2, CONVENTION HALL PHILADELPHIA
 B&W 16mm film #1
 B&W 16mm film #2
 
SEPTEMBER 3, STATE FAIR COLISEUM INDIANAPOLIS
 B&W 16mm film with original concert audio
 
SEPTEMBER 4, AUDITORIUM MILWAUKEE
 B&W 16mm film
 
SEPTEMBER 5, INTERNATIONAL AMPHITEATRE CHICAGO
 B&W 16mm film #1
 B&W 16mm film #2
 Color 8mm film #1
 Color 8mm film #2
 
SEPTEMBER 6, OLYMPIA STADIUM DETROIT
 Color 8mm film #1
 Color 8mm film #2
 
SEPTEMBER 7, MAPLE LEAF GARDENS TORONTO
 B&W 16mm film
 
SEPTEMBER 11, GATOR BOWL JACKSONVILLE
 Color 8mm film
 
SEPTEMBER 16, CITY PARK STADIUM NEW ORLEANS
 B&W 16mm film
 
SEPTEMBER 17, MUNICIPAL STADIUM KANSAS CITY
 Color 8mm film #1
 Color 8mm film #2
 
DVD DISC TWO "Tour Documents"
 Aug.18, Canada,International Airport #1
 Aug.18, Canada,International Airport #2
 Aug.18, L.A.,International Airport #1
 Aug.18, L.A.,International Airport #2
 Aug.18, San Francisco.,International Airport #1
 Aug.18, San Francisco.,International Airport #2
 Aug.20, Las Vegas,McCarran Field Airport
 Aug.21, Seattle,Sea-Tac Airport
 Aug.22, Seattle,Sea-Tac Airport
 Aug.22, Seattle,Edgewater Inn
 Aug.22, Vancouver,Royal Canadia Air Force Station
 Aug.22, Vancouver,Empire Stadium
 Aug.26, Denver,Stapleton Field #1
 Aug.26, Denver,Stapleton Field #2
 Aug.26, Denver,Red Rocks Amphitheatre
 Aug.27, Cincinnati,Lunken Airport
 Aug.28, New York,Delmonico Hotel #1
 Aug.28, New York,Delmonico Hotel #2
 Aug.28, New York,Delmonico Hotel #3
 Aug.28, New York,Delmonico Hotel #4
 Aug.28, New York,Delmonico Hotel #5
 Aug.30, Atlantic City,Lafyette Motor Inn
 Sep.1, Philadelphia,Convention Hall
 Sep.4, Indianapolis,Speedway Motel
Sep.4, Milwaulee,Mitchell Field Airport
 Sep.5, Chicago,Midaway Airport
 Sep.5, Chicago,Stockyard's Inn
 Sep.6, Chicago,"Night Beat"WGN-TV
 Sep.6, Chicago,NBC-TV News
 Sep.7, Toronto,Malton Airport
 Sep.7, Toronto,Maple Leaf Gardens
 Sep.8, Toronto,News Report
 Sep.8, Toronto,Malton Airport
 Sep.8, Montreal,International Airport
 Sep.8, Montreal,Montreal Forum
 Sep.11, Jacksonville,George Washington Hotel
 Sep.12, Boston,Hotel Madison
 Sep.14, Pittsburgh,Greater Pittsburgh Airport
 Sep.15, Cleveland,Hopkins International Airport
 Sep.15, Cleveland,Sheraton Hotel #1
 Sep.15, Cleveland,Sheraton Hotel #2
 Sep.15, Cleveland,Sheraton Hotel #3
 Sep.18, Dallas,Love Field Airport
 Sep.18, Dallas,Memorial Stadium #1
 Sep.18, Dallas,Memorial Stadium #2
 Sep.20, New York,Paramount Theatre
 Sep.21, New York,JFK International Airport
 Sep.21, London,Heathrow Airport #1
 Sep.21, London,Heathrow Airport #2
 
THE USA TOUR A LOOK BACK
 (with additional undated footages)

...And that is the creme ala creme of the underground stock for this week, thanks for checking in and catching up...have a great week!

Svengi, April 17, 2013