...Before we dive in, I must say that the latest LED ZEPPELIN releases are pretty damn interesting!...and to turn from very strong ROLLING STONES 50th Anniversary titles to VERY cool and exciting early 70's releases is also a wonderful thing if indeed the hold up to the pre-release information.  'Tis good to be a live music collector!  Btw, anyone else completely enamored with the new BOB DYLAN "Bootleg Series Volume 10"?...and the bonus CD 'Bob Dylan With The Band Live At The Isle Of Wight'?...It'll be anchored in rotation through the Fall at my place...and car. Awesome stuff.  Because the column last week didn't get fully posted with narrative, we are combining two weeks worth of information in this column.

...So here you go, all the information you need to know about the brand new Scorpio titles as outlined in the pre-release announcement from the vendor(s):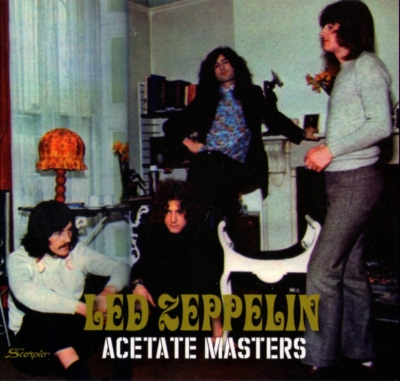 Led Zeppelin - Acetate Masters (1CD) Presented on this release are 8 studio recordings spanning the years 1968 - 1975 sourced directly from Jimmy Pages' personal reference acetates, cut at various studios in the UK, as well as a mono version of Black Dog sourced from a US promotional only 45. The full power of the band is revealed on these unlimited, un-compressed raw transfers cut prior to final mastering to reveal the quality and characteristics of the mastering and mixes. As is so obvious as to almost warrant not being mentioned, Led Zeppelin was entirely Jimmy's creation, and it was he & he only who had final say over any aspect of the bands career that he chose to involve himself in. Certainly mundane details regarding tours & promotion might be left to Peter Grant to decide, but in matters of the groups recorded output it was Jimmy alone who had final say over what was to be released. Which is what makes listening to these acetates so fascinating. Revealed here, for the first time ever, are the very recordings that Jimmy utilized to determine whether a particular track or performance met the stratospheric standards he would demand of the band & himself.

Recorded with the highest quality tube powered analog equipment, entered at a 24/96 sampling rate, carefully transferred and subsequently (lightly) de-clicked, the raw power of the original recordings shows through with startling clarity. These transfers are presented both in de-clicked (tracks 1-8, 17) and raw recordings, allowing the listener a choice of playback options.

These acetates are amongst the rarest & most unique Led Zeppelin artifacts to have surfaced in the ensuing 40+ years since they were first cut. Almost certainly they are one of a kind items; Jimmy didn't feel the need to solicit others opinions regarding recording quality standards. Unquestionably genuine, as opposed to the multitudes of patently bogus acetates regularly appearing on various auction sites and elsewhere, Led Zeppelin enthusiasts are here presented with a singular opportunity to transit back in time to the very moment when decisions were arrived at as to which versions of any given track was to be given the green light for release.  Additional information on the disc surfaces from collector forums where an unconfirmed tracklisting has been shared, there is a raw digital transfer of the acetate tracks with the same sequence repeated but all are 'declicked' - along with the bonus track tacked on for really good measures!

Communication Breakdown
 Living Loving Maid
 Immigrant Song
 R&R
 Black Dog
 D'yer Maker
 Black Country Woman
 Trampled Underfoot
 Communication Breakdown
 Living Loving Maid
 Immigrant Song
 R&R
 Black Dog
 D'yer Maker
 Black Country Woman
 Trampled Underfoot
 Black Dog (US only promo, mono single)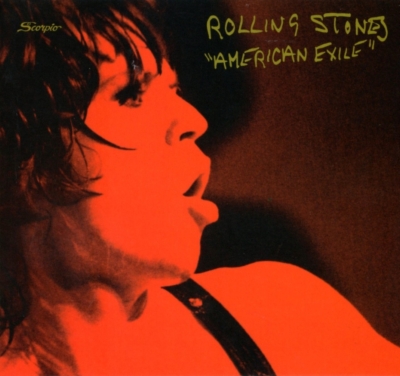 Rolling Stones - American Exile (3CD) This lavishly packaged set presents, direct from first generation transfers, the best quality versions to date of several key Rolling Stones performances from the legendary 1972 North American tour. The tour opening show in Vancouver, British Columbia, June 3 is presented here in it's entirety. This upgraded version was transferred directly from the 1st generation original cassette, and is not sourced from the plethora of online torrents that have circulated recently. 24/96 mastering presents this landmark show in the best quality ever, with unique performances of Torn & Frayed, Ventilator Blues & Loving Cup presented in sharp & bracing sound. Vancouver, clocking in at over 90 minutes was the most extended performance of the tour. Ragged but right, the Stones attack the material from Exile & earlier with fiery intent, resulting in a vibrant & bracing performance that serves as a telling precursor to the mayhem & abandon that was to characterize that summers sweep through North America.

The following days performance(s) in Seattle are represented here, once again in their un-edited entirety, by the evening show. Much better in sound quality than any extant recordings of the afternoon outing, the evening performance presents an even more raucous, if arguably more focused, document of the band firing on all cylinders. On every level this is a superb show, serving as a harbringer of what was to ensue once the Stones Touring Party(s) American odyssey subsequently transited further into their definitive spiritual homeland south of the Mason - Dixon during succeeding weeks.

One off performances of Sweet Black Angel, Dead Flowers & Don't Lie To Me are included from soundboard sources to present as complete an overview of the tour as can be re-created with the material available, resulting in at least one version of every song known to have been performed (of which a recording exists or is currently available), with the first & third shows of the tour being bookended by the final show at Madison Square Garden July 26. Well known & widely travelled in previous release as Welcome To New York, an important fact to keep to mind is that all subsequent releases of this show have been sourced from various issues of the old TMOQ vinyl. What may be less well known is that only the 2nd issue of the LP offered the true stereo soundboard recording, which is presented here, transferred from the original RS - 546-A/B REI matrixed vinyl, in what must be acknowledged to be the best quality ever, suffering none of the diabolical no-noise & cedar treatments that marred so many reissues of the show, including the abhorrently muffled Swinging Pig version.

Presented in a glossy laminated heavy weight tri-fold digi-pack gatefold cover, accompanied by an eight page booklet laden with appropriate photographs and relevant commentary ( as an example of the care brought to bear in this release the interior sleeve band photo is from the Vancouver show, readily identifiable by Keith's striped tunic) American Exile accomplishes what it (presumably) set out to achieve; delivering a pull no punches, all out assault to address & reconcile the mediocrity, redundancy & mendacity of too many haphazardly presented previous 1972 Rolling Stones US tour releases, resulting in as essential a Rolling Stones STP document as will likely be released until the band decides to issue one itself.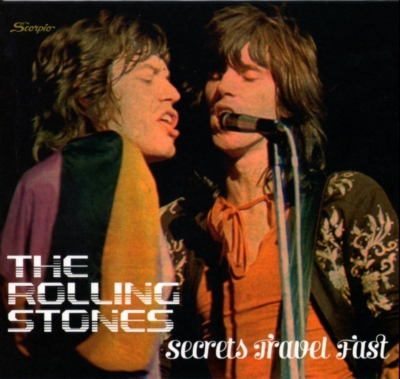 Rolling Stones - Secrets Travel Fast (1CD) Secrets Travel Fast presents what to date can be considered as the definitive document of the Rolling Stones 1970 European Tour. Sourced from an upgraded version of the French radio broadcast of the band's September 23, 1970 Palais des Sport , Paris, performance, and enhanced with appropriate bonus tracks, this release delivers a tremendous Rolling Stones listening experience. The bands 1970 tour has been reasonably well documented via audience recordings through the years. All well & good, but what Stones fan wouldn't hope for something a bit more, umm, dynamic? This crisp & solid soundboard recording delivers precisely that. Certainly the material on offer cannot be faulted; no less than 3(!) Chuck Berry covers serve to define1970's Continental outing as a return to the bands roots. After the mayhem of 1969's US tour the group must have relished the opportunity to traverse Olde Europe, scene of plenty of prior riots, though thankfully fewer fatalities than the previous years ill-starred junket.

Opening in Malmo , Sweden on August 30 the band played the tours only performance of Gimme Shelter. Why they saw fit to subsequently drop this from the set list remains a somewhat impenetrable mystery. Thankfully a recording of acceptable quality recently surfaced, 43 years on, and is presented here in best ever, though admittedly not perfect, quality. Owing to this fact the decision was made to append it to the end of the disc, rather than in it's original running order, so as to not critically impair the sonic integrity of what is otherwise a reasonably high quality recording.
Also added to this disc was the Malmo performance, in it's original running order, of You Gotta Move, which unfathomably was not played at the Palais des Sport. The quality of this acoustic track allows it to somewhat seamlessly integrate into the flow of the show...

For whatever reason the final two songs of the Palais des Sport show were not broadcast, and the known audience recordings from Paris are so diabolical that even the geniuses behind the old Oil Well label might have had cause to pause prior to inflicting them upon their unwitting victims, uh, I mean customers. In a bid to present a more complete overview of the tour audience recordings of Honky Tonk Women & Street Fighting Man are sourced from a (West) German show from the tour. The final tracks are soundboard recordings from the Stones Saville Theatre performance of December 14, 1969, the bands second to last live performance of the 1960's. Broadcast by the BBC these tracks reveal a (relative) measure of torpor in the performances, but are valuable none the less as now this release sports no fewer than 4 Chuck Berry covers!!

Presented in a heavy weight glossy tri fold digi pack sleeve adorned with dozens of photo's from the 1970 tour Secrets Travel Fast presents as extensive an overview of this somewhat over looked era in the bands history as has surfaced to date. Until such time as the band sees fit to release their own document this release can be seen as the essential encapsulation of this crucial transition period in the bands history.
...new titles from Archive Master Series, Tarantura, Excavation Music and a plethora of non-label fare...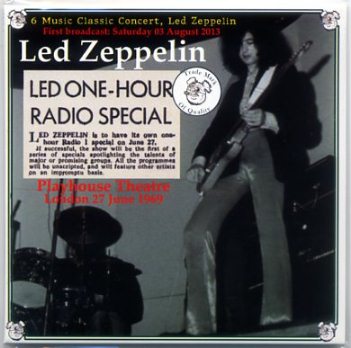 ...In early August, BBC 6 radio broadcast a LED ZEPPELIN BBC performance from The Playhouse Theater in London on June 27, 1969 - the first time it had ever been aired...Tarantura's Boleskine House Label has issued the first silver disc bootleg title to present the broadcast, "Led One-Hour Radio Special"...also new from Tarantura are AEROSMITH "Kamikaze" 2CD which features a complete 'Mr. Peach' audience recording of their January 31, 1977 concert at Budokan Hall...and STYX "Welcome To The Paradise Theater" 2CD which captures the band live at Budokan Dai Hall in Tokyo on January 13, 1982...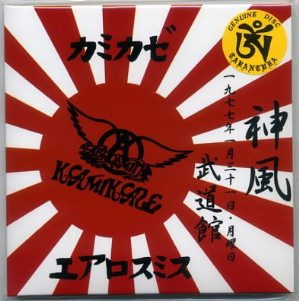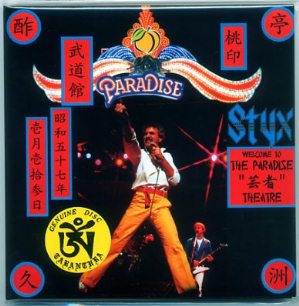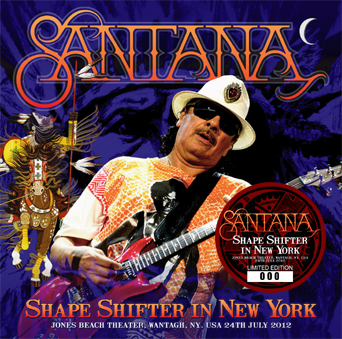 ...Brand new from Zion is the SANTANA release, "Shape Shifter In New York" 2CD which features a stereo soundboard of Carlos and band live at Jones Beach Theater in Wantagh, New York on July 24, 2012...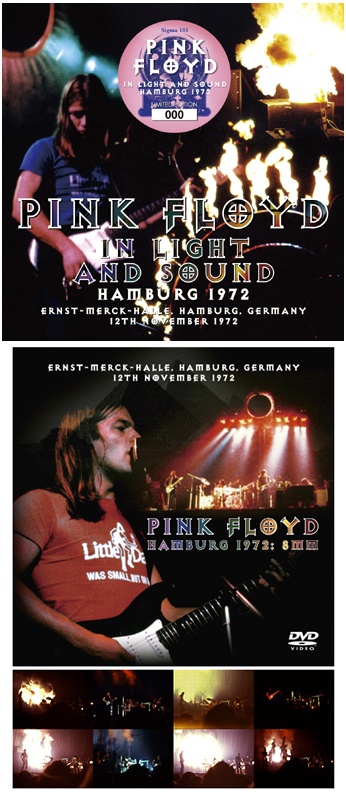 ...It's been a month since we've heard from Sigma and they come back with the new PINK FLOYD title called "In Light And Sound" 2CD of their live show at Ernst-Merck-Halle, Hamburg, Germany on the 12th of November 1972, and comes with the 'bonus' DVD-R featuring the 3 minute, 22 seconds 8mm footage that has been in circulation for quite awhile...also from Sigma is ROGER WATERS "The Wall Live: The Roman Wall" 2CD which documents the big event at Stadio Olimpico, Rome, Italy on July 28, 2013 via superb audience tape...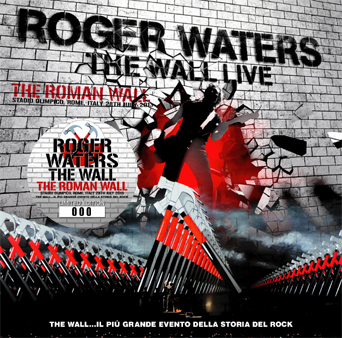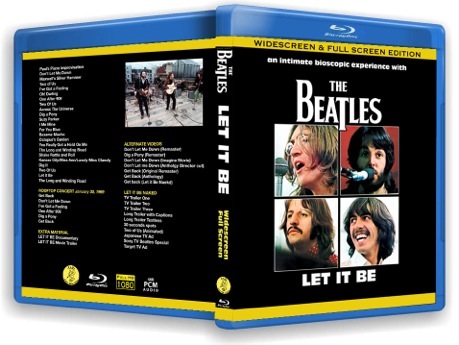 ...Word has it that the new BEATLES "Let It Be' Blu Ray release from Archive Master Series is quite a stunning transfer, that is good because the film always had a bootleg feel to it, visually and needed some cleaning up - even though it's unclear what the source was for this and what efforts were made to upgrade...it's being snapped up pretty fast from what I hear...There is a new BEATLES title called "Run For Your Life" 2CD on Excavation Music...here is the tracklisting on this one:
DISC-1  * 1962-06-11 - BBC "Here We Go" (Broadcast: 15th June 1962)  01 Announcer  02 Ask Me Why  03 Announcer  04 Besame Mucho  05 Announcer  06 A Picture Of You  * 1962-08-22 - Live at The Cavern Club, Liverpool  07 Some Other Guy #1 (complete)  08 Some Other Guy #2 (excerpts from documentary)  * 1962-09-05 - Live at The Cavern Club, Liverpool  09 Some Other Guy #1  10 Kansas City (excerpts from Anthology DVD)  11 Some Other Guy #2  12 Kansas City/ Hey Hey Hey Hey #1 (acetate)  13 Kansas City/ Hey Hey Hey Hey #2 (complete mix)  * 1962-10-99 Rehearsal  - Recorded in The Cavern Club, Liverpool  14 I Saw Her Standing There  15 One After 909 #1  16 One After 909 #2  17 Catswalk #1  18 Catswalk #1  * 1962-10-25 - BBC "Here We Go" (broadcast: 26th October 1962)  19 Interview with Monty Lister part 1  20 A Taste Of Honey (excerpt from "People And Places" TV show)  21 Interview with Monty Lister part 2 * 1962-12-31? - Live at The Star Club, Hamburg Germany  22 Hippy Hippy Sheke  23 Ask Me Why  24 Do You Believe (Ted "King Size" Taylor & The Dominoes)  25 Ooh Pooh Pah Doo (Ted "King Size" Taylor & The Dominoes)  26 Twist and Shout (Ted "King Size" Taylor & The Dominoes)  27 Rebel Rouser (The Dominoes backing waitress Bettina Derlien)  * 1963-01-22 - BBC "Saturday Club"(broadcast: 26th Jan 1963)  28 Some Other Guy  29 Announcer Post-SOG  30 Keep Your Hands Off My Baby  31 Beautiful Dreamer  * 1963-03-16 - BBC "Saturday Club"(broadcast: live 16th March 1963)  32 I Saw Her Standing There  33 Chat  34 Misery  35 Too Much Monkey Business  36 I'm Talking About You  37 Chat  38 Please Please Me  39 Hippy Hippy Shake

DISC-2  * 1963-04-03 - BBC "Easybeat"(broadcast: 7th April 1963)  01 Going Up?  * 1963-06-01 - BBC "Pop Go The Beatles #2"(broadcast: 11th June)  02 Love Me Do  * 1963-07-02 - BBC "Pop Go The Beatles #5"(broadcast: 16th July 1963)  03 That's All Right Mama  04 Chat  05 There's A Place  06 Announcer  07 Carol  08 Chat  09 Soldier Of Love  10 Announcer  11 Lend Me Your Comb  12 Chat  13 Clarabella  * 1963-08-01 - BBC "Pop Go The Beatles #11"(broadcast: 27th August 1963)  14 Twist And Shout  * 1963-10-03 - BBC "The Public Ear"(broadcast:  3rd November 1963)  15 Chat  * 1963-12-18 - BBC "From Us To You #1"(broadcast:  26th December 1963)  16 I Want To Hold Your Hand  17 Announcer  * 1964-11-17 - BBC "Top Gear"(broadcast:  26th November 1964)  18 Everybody's Trying To Be My Baby  * 1965-05-26 - BBC "The Beatles Invite You To Take A Ticket To Ride"(broadcast:  7th June 1965)  19 Dizzy Miss Lizzy  * 1965-10-12 - EMI Studio 2 (2:30-11:30 p.m.)  20 Run For Your Life - take 5 (mono)  * 1967-06-25 - EMI Studio 1 (2:00 pm - 1:00 am)  21 All You Need Is Love, take 59  * 1968-07-10 - EMI Studio 3 (7:00 pm - 1:30 am)  22 Revolution - take 15 (mono)  * 1968-08-29 - Trident Studios, London (7:00 pm - 6:00 am)  23 Dear Prudence - take 1 (mono)  * 1968-09-25 - EMI Studio 2 (7:30 pm - 5:00 am)  24 Happiness Is A Warm Gun (Acetates)  Bonus:  * 1972 August - "One to One demo" - Buttwrfly Studios and The Fillmore East _ NY  25 John Lennon /Working Class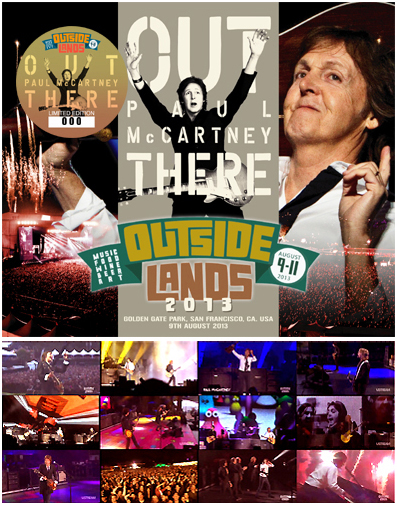 ...Two new PAUL McCARTNEY releases to point out...above, "Outside Lands Festival 2013" is a 3CD/2DVD package with a bonus DVD-R, "OUTSIDE LANDS FESTIVAL 2013: Original Audience Video Master" - all superbly documenting the August 9, 2013 show at Golden Gate Park in San Francisco...the core double-DVD set is supposedly a wonderfully shot source from the audience that is perfectly synced with CD quality sound from the webscast...below is "Out There In Boston" 2CD set that chronicles his return to Fenway Park in Boston on July 9, 2013...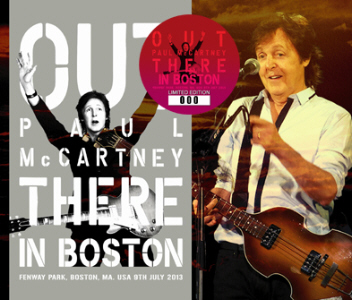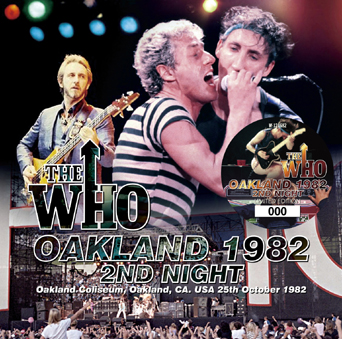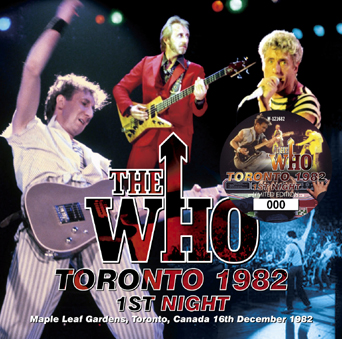 ...It appears that THE WHO's 1982 Tour of America is getting the same progressively released treatment as the ROLLING STONES '81 soundboards from several years ago, which I think is great.  So far we have 4 announced sets hitting the market...above, "Oakland 1982 2nd Night" 2CD documents the October 25th concert at Oakland Coliseum, and "Toronto 1982 1st Night" 2CD presents the December 16th performance at Maple Leaf Gardens (one night prior to the ppv broadcast/simulcast)...below we have "Portland 1982" presenting the October 21st concert from Memorial Coliseum...and "New Jersey 1982" nicely captures the October 10th show from Brenden Byrne Arena...all are coming from a non-label producer...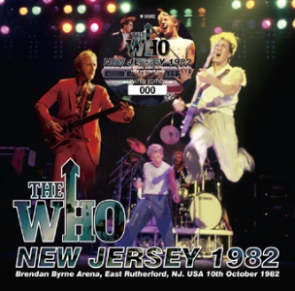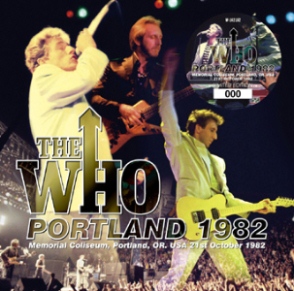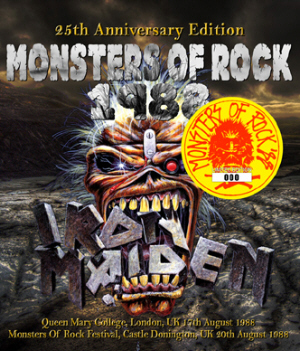 ...IRON MAIDEN get a deluxe release from Zodiac with "Monsters Of Rock 1988: 25th Anniversary Edition" 4CD/DVD package, and I love this description from the japanese vendor so I'm importing it verbatim:
The audio portion contains the Queen Mary College, London, UK show from August 17th, 1988 on the first two CDs where the band performed a warm up gig as "Charlotte & The Harlots" and discs three and four contain Castle Donington, UK from August 20th, 1988. The DVD is audience shot from Castle Donington on August 20th, 1988 with the audio listed as "STEREO SBD/CRAZY S. AUDIENCE REC MASTER"...

...lastly, speaking early about ROLLING STONES 1981 soundboards, there are a couple getting another release via non-label sources:  "New Orleans 81" 2CD stereo soundboard set containing the December 5, 1981 show at The Superdome & "Phoenix 81" 2CD stereo soundboard set featuring the December 13, 1981 concert at Sun Devil Stadium...and that wraps up this robust conversation of goodies...have a great week!

Svengi, September 4, 2013